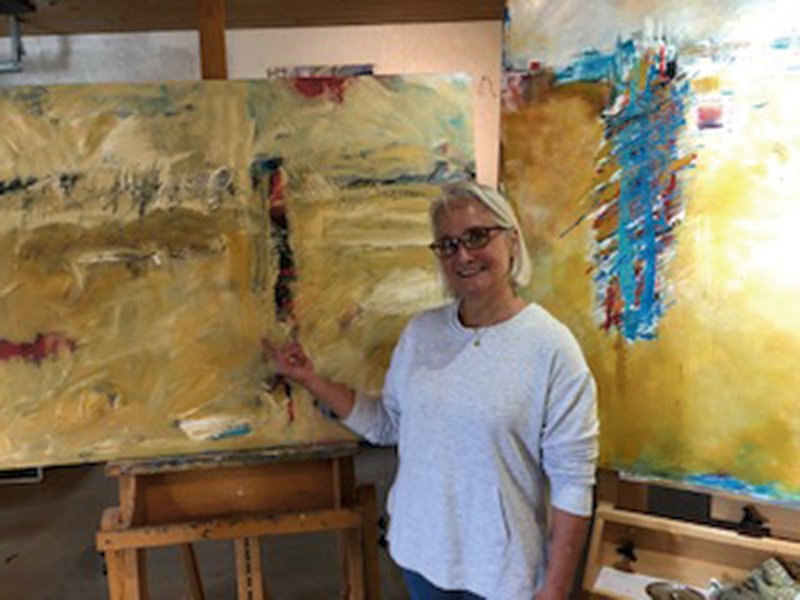 For the month of June, Blue Waters Fine Art & Design will feature Hot Springs native artist Tansill Stough Anthony. - Submitted photo - Photo by Submitted photo
Hot Springs native artist Tansill Stough Anthony will be the featured artist for the month of June at Blue Waters Fine Art & Design, 825 Central Ave.
"Her brilliant works on canvas take us on an artist's journey that is not unlike the one we've been on during the self-quarantine days of COVID-19: from uncertainty and isolation into a new reality," a news release said.
Anthony says the early days of social isolationism for her were "awful at first, like living in a dream and asking myself, 'Where am I?' Yet, even her darker, somber, meditative works of art seem imbued with a sense of a coming transition, as if everything in the picture plane is transitory. Later, her paintings express a hopefulness, a pure joy in the simple images from nature outside the window of the studio and inside the window of her soul. This thoughtful collection of works is punctuated by small sketches from the live model," the release said.
Blue Waters Fine Arts also features fine craft and fine art in a variety of media: hand-forged iron, spaulted wood, clay, fiber, and paint.
The gallery, owned by Laura Blue Waters, is open from 10 a.m. to 5 p.m. Thursday through Saturday and by appointment by calling 501-701-8036.
During the monthly Gallery Walk on Friday, June 5, there will be a special artist reception from 5-8 p.m. with live music by Tommy Stancu.
Entertainment on 05/22/2020
Print Headline: Anthony featured artist at Blue Waters
Sponsor Content
Comments