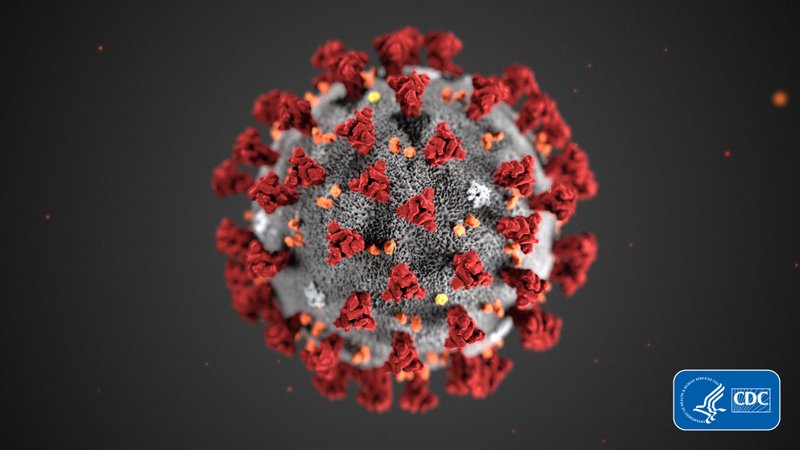 This illustration provided by the Centers for Disease Control and Prevention (CDC) in January 2020 shows the 2019 Novel Coronavirus (2019-nCoV). (CDC via AP, file photo)
EDITOR'S NOTE: As a service to our readers, The Sentinel-Record will publish daily updates released each weekday by the city of Hot Springs and the state of Arkansas.
The following stats were shared Thursday at Gov. Asa Hutchinson's daily COVID-19 news conference in Jonesboro and posted on the Arkansas Department of Health's website:
• 6,538 confirmed cases statewide, up 261 from Wednesday.
• 119,768 tests reported, up 1,127 from Wednesday.
• 5.5% rate of infection, up from 5.3% Wednesday.
• 1,830 active cases, up 97 from Wednesday.
• 4,583 recoveries, up 159 from Wednesday.
• 125 deaths, up five from Wednesday.
• 104 hospitalizations, down four from Wednesday.
• 27 cases on a ventilator, up five from Wednesday.
• 372 nursing home residents infected, up eight from Wednesday.
• 136 cases in Garland County, up one from Wednesday.
• 4,016 tests reported for Garland County, up 73 from Wednesday.
• 3.4% rate of infection, no change from Wednesday.
• 130 recoveries in Garland County, up two from Wednesday
• Five active cases in Garland County, down one from Wednesday.
• One death in Garland County, no change from Wednesday.
The 261 new cases reported Thursday marked the state's most community cases in a single day. Despite the single-day record, the rolling seven-day average of new infections fell 15.2% as result of the 455 cases reported May 21 falling outside the seven-day period. The May 21 total included more than 200 cases in correctional settings.
Thursday's 154.29 average was more than 50% higher than the May 11 average, and the five deaths reported Thursday marked the deadliest day in more than a week. Active cases, reaching 1,830 Thursday, are up 115.5% since May 12.
Hutchinson said based on the 2.5 to 2.8 contacts infected people have on average, almost 1,000 people may have had contact with Thursday's 261 positive cases and could have to go into quarantine for 10 to 14 days.
"This is another way to emphasize how important it is to control this virus and to reduce the spread, because with the contact tracing, it impacts not just the case, the individual, but everybody who's been in contact with that person who might have contracted that virus as well," he said.
The one new case reported in Garland County Thursday kept its rolling seven-day average below one for an eighth straight day.
The growth of infections in the Latino community Hutchinson noted Wednesday continued Thursday. He said 42% of Thursday's new cases had Spanish surnames. Many of them were in Benton and Washington counties in northwest Arkansas, which has close to 400 active cases. Eighty-five of Thursday's new cases were in Benton County and 25 in Washington County.
"It indicates a consistency in trend that we do have challenges in the Hispanic community in terms of our outreach," Hutchinson, noting the disease's spread among that population is partially attributed to the number of Latinos who work in food processing plants, said. "We want to have an increased effort in our outreach with our Hispanic community and other minority communities and make sure they're aware of the risks and the actions they should take to protect themselves and their families."
The list of cases in congregate living settings such as prisons and nursing homes the Department of Health released Thursday showed the roughly two dozen residents and staff who tested positive last month at Adult Teen Challenge of Arkansas have recovered.
The faith-based substance abuse treatment center on Walnut Valley Road is the county's only congregate setting where multiple cases have been reported. The facility was referenced in the funding proposal for antibody testing the University of Arkansas for Medical Sciences submitted to the steering committee making recommendations to the Legislature on how the state's federal coronavirus aid should be spent.
The proposal said only three of the 26 people who tested positive had symptoms.
"The significance of these findings is that the rate of asymptomatic COVID-19 carriers likely exceeds rates for influenza or other common viral pathogens," the proposal said. "These asymptomatic carriers may harbor infection and pass it on to people with high-risk conditions."
Dr. Nate Smith, Health Department secretary, said Thursday that half of the state's more than 6,500 cases reported no symptoms when they were tested.
Local on 05/29/2020
Print Headline: COVID-19 update: Surge in new cases continues
Sponsor Content
Comments