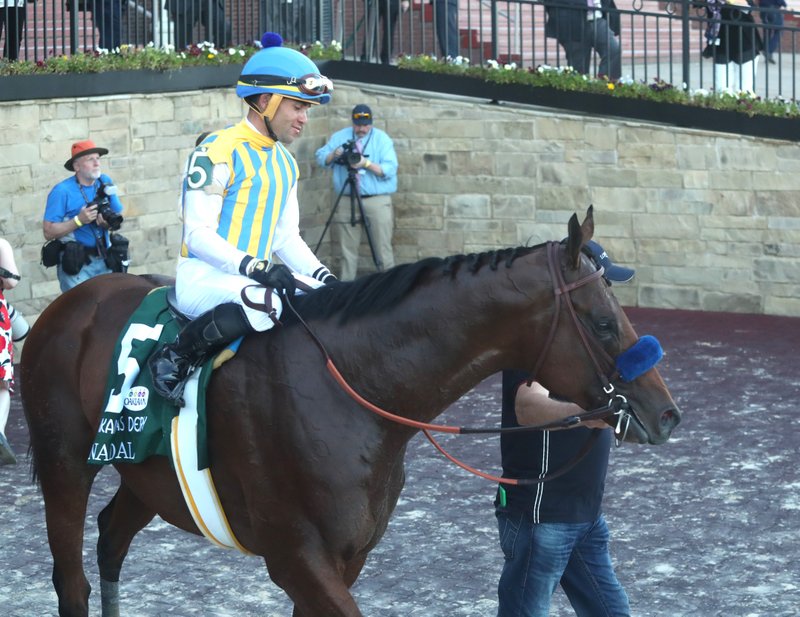 Jockey Joel Rosario and Nadal head into the winner's circle after winning the second division of the Arkansas Derby on May 2 at Oaklawn Racing Casino Resort. - Photo by Richard Rasmussen of The Sentinel-Record
A difficult week for Hall of Fame trainer Bob Baffert became further complicated Thursday.
Undefeated 3-year-old colt Nadal, last seen in the Grade 1 Arkansas Derby May 2 at Oaklawn Park, has been retired after sustaining an injury diagnosed after a workout at California's Santa Anita Park on Thursday. The story was first reported by Bloodhorse.com.
Diagnosed as a left front condylar fracture, the injury immediately required surgery.
"He is now going to become a stallion," co-owner George Bolton is quoted in Bob Ehalt's Bloodhorse story. "It's very sad, obviously. I just got the call this morning. It's a call you never want to get in horse racing."
Nadal's four victories included a Grade 2 race at Santa Anita and Oaklawn's two biggest events for 3-year-olds, the Grade 2 Rebel Stakes (March 14) and the Arkansas Derby. The Blame colt was considered a prime candidate for the Grade 1 Belmont Stakes June 20, the first leg of the rescheduled Triple Crown.
The news about Nadal came after reports that Arkansas Derby first-division winner Charlatan, also trained by Baffert, tested positive for a banned medication after his Oaklawn race.
The drug finding, which the New York Times and other media outlets reported, is unofficial. It was reported Tuesday that two horses on the May 2 Oaklawn card tested positive and that a second drug sample for each will be sent off for testing. Charlatan, a Speightstown colt, has not been headed in three career starts and was linked with Nadal to the shortened (nine furlongs) running of the Belmont Stakes in New York.
Nadal won his first three races on the lead, the first two in California, but came off the pace in what was considered the stronger division of the split Arkansas Derby. With 150 points from two Oaklawn races, Nadal led prospective Kentucky Derby qualifiers under a rating system devised by host track Churchill Downs, which because of the COVID-19 pandemic has rescheduled the traditional spring classic to Sept. 5.
Sold twice at auction, the last time for $700,000 in Florida in March 2019, Nadal earned $1,053,000 on the track.
"He retires undefeated. He retires, thank God, on a soon-to-be recovery. He gave us four great races," said Bolton, a shareholder in Nadal with Arthur Hoyeau, Barry Lipman and Mark Mathiesen.
Nadal underwent surgery at Santa Anita's onsite equine hospital. "They put two screws in it. It looks good," Baffert told Louisville-based website Horse Racing Nation.
"He breezed a half (mile). Everything went well. He came back to the barn and you could tell he was a little bit off. We X-rayed him," Baffert said on HRN.
Sports on 05/29/2020
Print Headline: Injury ends Nadal's racing career; won G1 Arkansas Derby
Sponsor Content
Comments