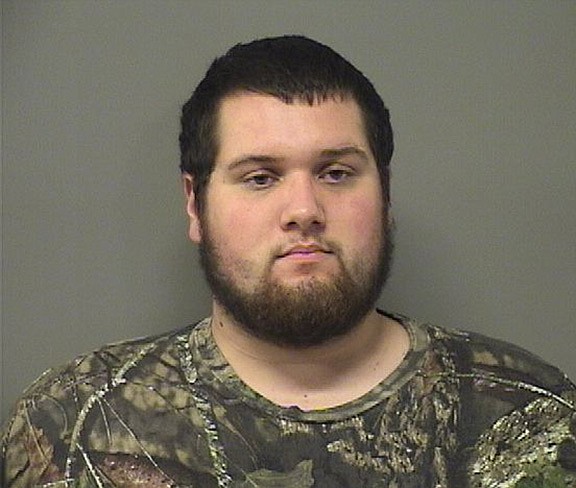 Dallas James Landry - Submitted photo
A local man who embezzled over $3,300 by stealing and cashing lottery tickets while working at a convenience store earlier this year pleaded guilty to felony charges Tuesday.
Dallas James Landry, 22, pleaded guilty in Garland County Circuit Court to lottery fraud and theft of property over $1,000, each punishable by up to six years in prison, and was sentenced to six years' probation, fined $1,500 and ordered to pay $3,390 in restitution and $440 in court costs.
According to the probable cause affidavit, the manager of E-Z Mart, 505 Summer St., told Hot Springs police he discovered a large number of money shortages from the store from Jan. 3 to 4 during the shift of an employee, identified as Landry.
He said he reviewed security footage on those days and saw Landry taking and "scratching off" a large number of lottery tickets while there were no customers present. Landry was also seen "cashing in" the tickets and pocketing the money. The manager provided police with the security footage and documentation showing a loss to the store of $3,390.
Detective Nathan Rines watched the footage and confirmed Landry was the only employee in the store during that time and "his actions are very apparent." He said Landry could be seen pulling long strands of tickets from the dispenser "over and over again" and concealing them in his pocket.
He was later seen pulling the tickets out and scratching them off at the counter and then cashing several of the winning tickets out and putting the money in his pocket.
A warrant for Landry's arrest was issued on Jan. 23 and he turned himself in on Feb. 10. He was released the next day on a $6,000 bond and pleaded not guilty to the charges on July 7.
At the time of his arrest on the fraud and theft charges, Landry listed no prior criminal history, but he was arrested again on May 21 on two felony counts of first-degree endangering the welfare of a minor, punishable by up to six years in prison, involving an incident where he was driving a car and allegedly got into a "road rage" type altercation with another motorist while he had two children in his vehicle.
Landry was released that same day on a $5,000 bond and pleaded not guilty to the charges on Aug. 17. He is set to stand trial in circuit court on April 27, 2021.
Sponsor Content
Comments