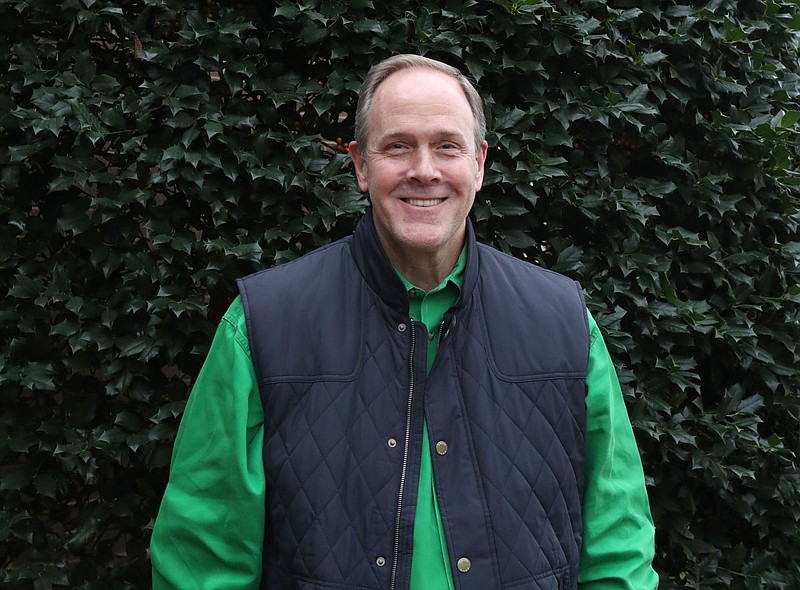 State Rep. Les Warren, R-District 25, the president of Hot Springs Title Company, recently spoke with The Sentinel-Record about his experiences and take-aways after a COVID-19 outbreak in his office. - Photo by Richard Rasmussen of The Sentinel-Record
State Rep. Les Warren, R-District 25, the president of Hot Springs Title Company, recently spoke with The Sentinel-Record about his experiences and take-aways after a COVID-19 outbreak in his office back in the spring.
"At that point, nobody here in Hot Springs was wearing masks, so that was not something we were doing, but we thought we were being careful," he said.
Office personnel were trying to social distance and use hand sanitizer. But Warren said one of his employees got sick, and not long after, it spread throughout the office.
[Video not showing up above? Click here to watch » https://youtu.be/9VPmENGS30Y
"Well, we ended up with 10 of the 14 of us here in this office coming down with coronavirus," he said.
"That was the amazing part for me, was how quickly this thing spread. Within a matter of a couple of days, 10 of 14 tested positive, and I'm like, 'How did we get it that easily?' And, you know, we're pretty spread out in here. But, still, it spread. And that's what I don't think people realize is how easily this thing spreads."
He said three were asymptomatic, two just lost taste and smell, and the rest had something similar to what he went through.
"I went home at lunch, it was April 1st, and ate lunch, and told my wife, I said 'I'm going to lay down for just a few minutes,' well I woke up an hour later and went 'Oh my gosh, I've got to get back to work,'" he said.
Fatigued and running a fever, Warren went to the doctor and later tested positive for COVID-19. From there, his symptoms got worse.
"The fatigue was so strong that I got up two mornings in that first week and tried to take a shower. I thought I would pass out," he said.
He couldn't eat either, and Warren says he lost 10 pounds in 11 days. But on day 11, he said he started to turn the corner, and recovered a few days later. However, he knows not everyone is that lucky.
Warren said he lost a good friend, who was in good shape and didn't have any underlying conditions.
"She had started out with strep. Four days later, it turns into COVID. She goes into the hospital. Within a week, she dies," he said.
Since Warren's experience, the pandemic has continued to worsen. The state's infection curve reached new peaks over a dozen times over the last few weeks. Garland County has broken records for confirmed cases this month, as well.
Warren said everyone has a right to make their own choice, but if they're going to go out, they should wear a mask. He thinks it's a simple task.
"You can make the choice about, 'Well, if I get it, I get it,' but you don't have the right to make the choice about if I get it and give it to somebody. You're causing someone else who, potentially, you may be fine with it, but you could give it to someone, and it kills them. That's where I think you cross the line."
Warren's praying for the vaccine to get here, and hopes that people will take it when it's released to the public.
"I know a lot of people are like skeptical, but I think America is one of those countries that, even though they want a cure, they are going to make sure that it has been properly tested."
In the meantime, he's still wearing the mask and practicing other safety precautions.
The CDC's website says cases of reinfection with COVID-19 have been reported, but are rare. While immune response, including duration of immunity is not yet understood, it says, based on what is known of other coronaviruses, some reinfections are expected. The best way to prevent this, the website says, is to wear a mask in public, wash hands, and practice social distancing.
According to The Associated Press, the CDC is pleading with people to not travel for or spend Thanksgiving with people outside of their household. If people do plan on including those not within their households anyway, it's recommending gathering outside if possible, wearing masks and social distancing, and having one person serve food.
The Sentinel-Record caught up with Warren later to ask if he had anything he wanted people to think about when making Thanksgiving plans.
"I think everybody should see that the numbers have skyrocketed. The plans that people should be making are plans that keep it as safe as possible," he said.
Sponsor Content
Comments