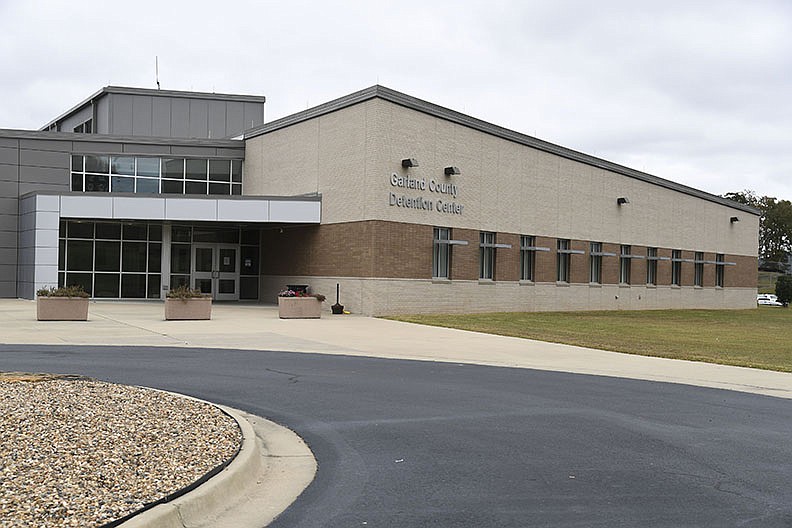 The Garland County Detention Center is shown on Sunday. -Photo by Grace Brown of The Sentinel-Record
"It's not just a job ... it's a career ... it's a calling," the Garland County Sheriff's Office has said in seeking applicants for several immediate openings for deputies at the Garland County Detention Center.
"We are currently hiring for detention only, but the opportunities for career growth are endless at the sheriff's office," Morgan Cardenas, the department's human resources coordinator, told The Sentinel-Record Wednesday.
"Many of our deputies have started at the detention center with the goal of moving to patrol, but instead they found a passion for the work they do in corrections. They are the 'heroes inside the walls' and it truly takes a special person for that job," she said. "If a detention deputy does want to pursue the enforcement side of the sheriff's office, we will fully support that goal and offer them the opportunities and resources they need to be successful in their career."
Applicants must be a U.S. citizen, 21 or older, possess a high school diploma or GED, pass a criminal-background check, and physical and psychological exams. The applicant does not have to live in Garland County, she said.
Asked about qualifications the department is hoping for, Cardenas said the "ideal candidate" would be someone who "communicates effectively, values and respects others, drives to excel, values teamwork and collaboration, continuous learning, demonstrates ethical behavior, has a desire to lead by example, and is adaptable in a challenging profession and supportive of change."
She said deputies play "an important role in our dedication to be a part of change in our community" and while detention deputies are managing inmate behavior, "they also promote and encourage rehabilitation by serving as positive role models to the inmates."
The sheriff's office offers competitive pay, paid health and dental, paid tuition through National Park College, participation in the state retirement plan, incentive raises, paid time off, holiday incentives and career advancement opportunities, Cardenas said.
"Prior to the Garland County Detention Center project, the revolving door in prisons and jails was a reality in Arkansas and around the country. The criminal justice system was good at catching offenders and incarcerating them but lacked the resources and support needed to help offenders stay out of jail," Sheriff's Capt. Ron C. Halverson, security director, said.
After he heard the center "was looking for detention deputies focused on changing lives instead of warehousing bodies, I knew this was an opportunity of a lifetime," he said. "Since joining the Garland County Sheriff's Office, I have enjoyed a profound sense of job satisfaction helping offenders get their lives back on track; as well as, participating in the career development of our highly professional staff."
Halverson said, "All things considered, my career with the GCSO has proven to be a win-win for me, and it can be a win-win for you also."
The department "leads the state and nation region in advanced corrections technology and philosophy. Our enforcement division has grown by leaps and bounds in manpower and technology, and we are constantly visited by state and nationally regional agencies to see how we do business. Get on board and be a part of it!," Lt. Russ Severns, GCDC Team 4, said.
"The most rewarding part of my job is knowing every day that I have a chance to be a part of change that has a positive measurable impact on my community," Capt. Belinda Cosgrove, the center's captain of operations, said.
"I am not working for a corporation that is profit-driven," she said.
Applications are available at http://www.garlandcounty.org or by calling Human Resources at 501-622-3663.
Sponsor Content
Comments