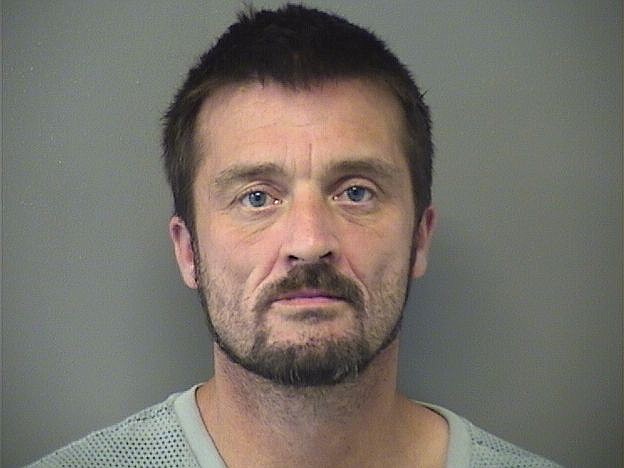 Dennis Ray Stinson - Submitted photo
A homeless man sought on felony and misdemeanor warrants for the theft of one vehicle and attempted theft of another vehicle last month was arrested early Friday while allegedly trying to break into a local insurance agency's offices.
Dennis Ray Stinson, 42, who lists "city streets" as his address, was taken into custody shortly after 7:30 a.m. outside the offices of Seniorcare USA, 216 Ward St., and charged with a felony count of theft of property, punishable by up to six years in prison, and misdemeanor counts of criminal attempt at theft of property, first-degree criminal mischief and criminal trespass.
Stinson was held over the weekend in lieu of a $6,750 bond and was set to appear Monday in Garland County District Court.
According to the probable cause affidavit, Hot Springs police Officer 1st Class Taylor Gates responded to the insurance agency regarding a burglary in progress. The building's owner had called 911 to report there was a man attempting to gain entry to the building.
Gates saw a man, later identified as Stinson, standing at the southeast corner of the building and noted he was "sweating and his movements were quick and jerking." He detained him and in patting him down located a silver key in his pocket. Stinson allegedly admitted he was trying to use the key, which he found, to get into the building.
A witness said she had come to work that morning and saw the suspect between the "east-facing doors" and noted he was digging around near a crack in the door. She called the building owner who called 911 and the owner wanted to press charges.
According to the affidavit on the attempted theft, on Aug. 1, shortly before 10:30 a.m., Stinson was seen on security video entering the property at Hecke's Auto Repair, 500 Summer St., and then getting into a white 2001 Chevrolet Blazer that was parked there awaiting repairs.
Stinson allegedly damaged the steering column and ignition, with damages estimated at $662.89, in trying to start the car. He also added gasoline to the tank, not aware the car's fuel pump was not working. Stinson "eventually gave up and left the vehicle behind." The affidavit notes that Officer 1st Class Chris Chapin viewed the video and recognized Stinson from several prior encounters.
On Aug. 6, shortly after 7 a.m., Stinson was again reportedly seen on security video breaking into a teal 2009 GMC Acadia at Muffler Plus, 1919 Albert Pike Road. This time he was able to start the car and drove away. Chapin reviewed the video and again identified Stinson as the suspect. The value of the car was estimated at $4,500.
Sponsor Content
Comments