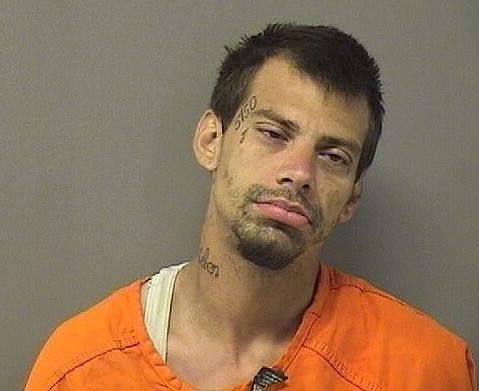 Randall Scott Cooper - Submitted photo
A North Little Rock man was arrested Monday by Hot Springs police in connection with a stolen motorcycle after initially fleeing from an off-duty Garland County sheriff's deputy who tried to question him.
Randall Scott Cooper, 27, who is a felon, was taken into custody around 1:30 p.m. in the 100 block of Lakeland Drive and charged with a felony count of theft by receiving over $1,000, punishable by up to six years in prison.
Cooper remained in custody Tuesday in lieu of a $2,500 bond and is set to appear today in Garland County District Court.
According to the probable cause affidavit, around 10:30 a.m. Tuesday, Hot Springs police responded to the 200 block of Lakeland Drive to assist off-duty Sheriff's Cpl. Felix Hunter who had been talking to an unknown man regarding a reportedly stolen Honda motorcycle the man was standing by.
Hunter said when he approached the man he was "messing with the seat" on the motorcycle and then fled. Hunter provided a clothing description and noted the man was "covered in tattoos." Officers set up a perimeter around the area but were unable to locate the suspect.
Officer Brandon McAdoo spoke with the manager of a nearby apartment complex who had reportedly spoken earlier to the same man Hunter had encountered. She said the man had his motorcycle parked in a no-parking zone and she had him move it to a different spot.
Shortly after noon, the witness notified police she had seen the same man again and noted he went into an apartment, changed clothing and left the area. She was able to provide a new clothing description to officers who responded to the area and located a man, identified as Cooper, who matched the description in the 100 block of Lakeland. The affidavit notes the witness was able to identify Cooper as the man from earlier.
After being questioned, Cooper reportedly stated he purchased the motorcycle from a man named "T.J." about two weeks ago. He admitted to fleeing from Hunter and stated he ran "because he was nervous."
The owner of the motorcycle, who lives in Jacksonville, had reported it was stolen on Aug. 18. The motorcycle was valued at $2,000.
Cooper was previously convicted on April 4, 2016, in Pulaski County Circuit Court of possession of a controlled substance, meth, possession of drug paraphernalia, carrying a weapon, resisting arrest and theft of property and was sentenced to three years in prison.
Sponsor Content
Comments