Mountain Valley Armory is building a new 11-lane firing range in its 10,000-square-foot basement that it plans to open by the end of the year, offering everything from firearm basics to machine gun rentals.
In what co-owner Tanya Spavins said is a nearly $2 million investment, the facility, located at 249 Ouachita Ave., will offer a place for shooting practice and training, which is in "huge demand" for this area. They expect the range, Machine Gun Grotto, will pay for itself as a result.
Once open, the range will be able to hold 22 people in its 25-yard range, as well as multiple different classes in its classroom.
"We'll have lots of classes (like) conceal carry classes, advanced conceal carry classes and then just basics like how to maintain your weapon, how to choose a weapon, how to clean your weapon, when to clean them, how to store them," Spavins said.
"We find that our customers crave knowledge and information and education, so we do as much as we can here in the store, but down there in the range we will have a lot more opportunity to really work with people."
She said they have received so many first-time gun purchasers this year, much like the rest of the country, which is why holding classes at the range is so important.
"So many people have walked through my store and said 'I've never handled a gun, I've never owned a gun, but I think it's time,'" Spavins said. "So this will be a training facility, as well.
"If you have never fired a gun, you don't know what to expect; you're not anticipating recoil, if you're not holding the gun correctly the gun can literally fly out of your hand ... you miss the target and hit your neighbor or own child or whatever because you haven't trained with that weapon, how to grip the weapon, aim the weapon and then hit your target."
Mountain Valley is also anticipated to serve as a tourist attraction, she said.
"We're already talking to folks about marketing in Shreveport, La., and Texarkana, Texas," Spavins said. "So billboards as you're driving into Arkansas to draw more people to Hot Springs. What we found is you have a lot of couples or families that come into town, and the wives have plenty of things to do when it's hot or rainy or too cold to be outside ... and the husbands are in my store going 'We're looking for something to do.'"
She said people will be able to use the range to fire their own guns, rent a different type of gun or try out a machine gun.
Above all else, Spavins said their motto will be to "Be safe, have fun, learn if you want to" -- putting safety first, noting they will also serve as a range for law enforcement certification.
"We're already in communication with law enforcement all over this area of the state to let them know, rain or shine, they can come in and train and do their qualification," Spavins said.
Regardless of who wants to pay the business a visit, she said it will have to be run through a membership.
"City ordinance requires we run it as a gun club, so there will be memberships, but there will be a variety of memberships," she said. "Everything from a day visitor membership, which will be very inexpensive, to, we'll have locals who will want to visit all the time, so we'll have memberships appropriate for that, as well."
One hesitation Spavins said she had with early advertising was the first impression people would get walking into the facility and seeing empty gun racks -- a reality the COVID-19 pandemic has caused for gun shops everywhere.
"I didn't want people to come in and (the empty gun racks) be their first impression ... but we're getting to the point where we can't not start advertising the range; we've got to start letting people know about it," she said. "Ammo right now is extremely hard to get; guns are trickling in. I had about $15,000 worth of guns delivered last Wednesday; most of them have sold in a week.
"And remember, we still have to get through the actual election, we have to get through inauguration, and if you recall there were riots last time around the time of inauguration. So we have to get through those two things, and all of that angst drives sales, so that keeps demand up, but with COVID, manufacturing can't rise to meet the demand. In fact, manufacturing has decreased from normal."
While Spavins said "it is 2020 and anything can happen," the Grotto is projected to open by December or January. As for the firearm industry itself, she said she expects the industry to be "back on its feet" by next summer.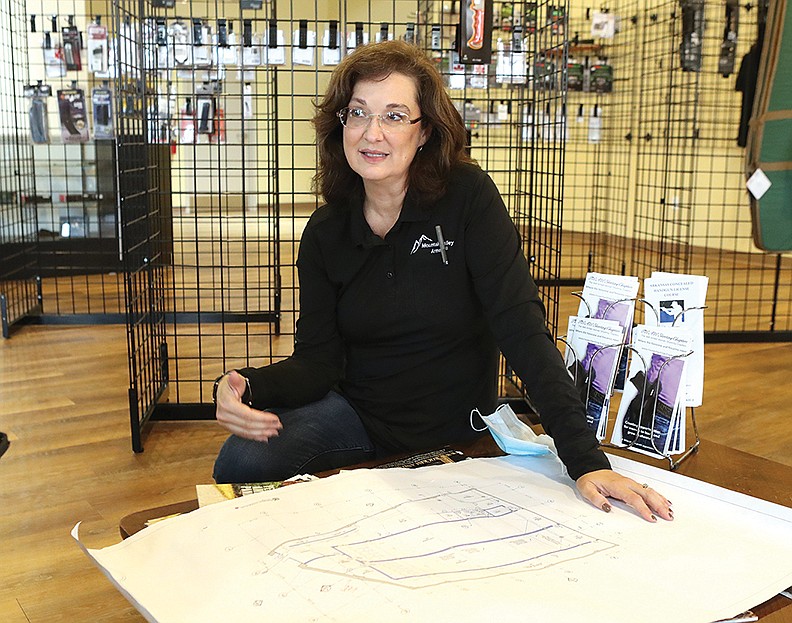 Mountain Valley Armory co-owner Tayna Spavins discusses the new Machine Gun Grotto firing range going in MVA's basement on Friday. - Photo by Richard Rasmussen of The Sentinel-Record