A Royal woman and a Hot Springs man are facing felony theft and drug charges after a GPS tracker on a vehicle reportedly stolen from a local car lot was traced to a local residence.
Tammy Jo Reed, 49, of 106 Williams Road, and Blanton Paul Montgomery, 41, who lists a Hickory Street address, were taken into custody shortly before 2:30 p.m. at Reed's residence and each charged with possession of meth with purpose to deliver, punishable by up to 20 years in prison, theft by receiving over $5,000, punishable by up to 10 years, and possession of drug paraphernalia, punishable by up to six years.
Reed was later released on an $11,000 bond and is set to appear on April 19 in Garland County District Court. Montgomery, a felon on parole, remained in custody Tuesday in lieu of an $11,000 bond and is set to appear today in district court.
According to the probable cause affidavit, on Monday, the owner of Lloyd's Auto Sales, 1814 Albert Pike Road, reported a theft of a white 2010 Jeep Wrangler from his lot and told Garland County sheriff's investigators he had previously placed a GPS tracker on the vehicle which showed it was at 106 Williams Road in Royal.
The owner noted he went to the location and saw a white Jeep matching the description of the one stolen on the property there, partially covered with a blue plastic tarp. He noted the keys were in the Jeep when it was stolen.
On Monday, sheriff's investigators obtained and executed a search warrant on the property to recover the Jeep and located Reed at the residence. Reed reportedly stated the Jeep was brought to her house the night before, but she didn't know who had brought it.
The Jeep was confirmed to be the stolen vehicle and returned to the owner. While searching the residence for the keys and paperwork, investigators located Montgomery in a bed in the master bedroom.
Montgomery was removed from the bed and a bag containing 2.25 grams of what later tested positive for meth and a glass smoking pipe were observed "in plain sight" on the bed.
A second search warrant for narcotics was obtained and executed and investigators reportedly recovered the meth, multiple used pipes and numerous pills in the bedroom.
According to court records, Montgomery was previously convicted on Nov. 7, 2017, in Independence County on felony charges of possession of meth with purpose to deliver and possession of drug paraphernalia and was sentenced to 10 years in prison, but later paroled.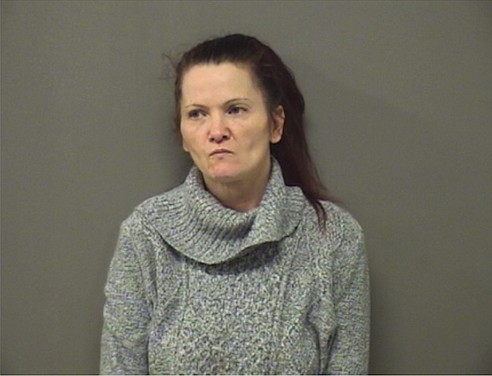 Tammy Jo Reed - Submitted photo