A treatment option that helps reduce the risk that people infected with COVID-19 will get sicker is becoming more widely available throughout Garland County as efforts continue to lessen the effects of the virus.
The monoclonal antibody treatment is available for people who have tested positive for COVID-19 and had symptoms for 10 days or less, along with people who are at high risk of developing more serious symptoms. Patients need a physician's or nurse practitioner's order to schedule an appointment.
A discussion was held at Monday night's Hot Springs/Garland County COVID-19 Task Force meeting about the treatment and the role it is playing in keeping people safer while alleviating the burden on local hospital systems. While CHI St. Vincent, which has provided monoclonal treatment injections since November 2020, and National Park Medical Center both continue to offer the treatment, area pharmacies such as Express Rx and Village Health Mart East Gate Pharmacy now offer it as well.
Express Rx noted in a news release Tuesday that it administered its first injection to a Hot Springs patient on Aug. 20.
"COVID-19 vaccine stimulates individuals' immune systems to produce antibodies to fight the virus," the release said. "The monoclonal antibody injections prevent the virus from being absorbed by bodies' cells. Previously, only medical centers were authorized to provide these treatments. In late July, the FDA gave approval for pharmacies to provide them through subcutaneous injections."
Video not playing? Click here https://www.youtube.com/embed/juIPJKj5X1Q
Garland County vaccine coordinator and pharmacist Dr. Cody Turner said preventing hospitalization is the "whole goal of all of this."
"I know on our task force meetings, and just nationally, this is viewed as a complement to the vaccine because it's a new measure for us to be able to prevent the spread of illness," he said.
Turner, who works at Village Health Mart East Gate Pharmacy, said at the meeting that the administration of monoclonal antibodies has been effective at helping keep high-risk patients from developing severe cases of COVID that would require hospitalization and is now being given to high-risk patients as a preventive measure if they have been exposed to the virus.
He said the treatment, manufactured by Regeneron Pharmacuticals Inc., helps "delay the progression of disease for anyone who meets the criteria." He notes it is currently available for anyone at high risk of contracting COVID-19 or having poor outcomes with it such as the elderly, overweight or those with diabetes.
Turner said anyone who tests positive and does not have a severe enough case to go to the hospital "can and should receive this."
"But as far as who qualifies for it, it's anyone, as long as it's within 10 days of symptom onset and you have a positive COVID test," he said.
"The monoclonal antibody treatment from Regeneron -- it's meant to somewhat mimic the way that we use the convalescent plasma in treatment. So when someone would contract COVID, we would extract the convalescent plasma from their bloodstream and then we would give that to someone else -- basically giving them (an) external immunity source. And the Regeneron is meant to do the exact same thing, just with a synthetic version of the antibodies.
"It's also indicated for post-exposure prophylaxis, which is for unvaccinated people," he said.
"So if you haven't had both of your vaccines and you got exposed to someone with COVID, we can go ahead and give you the antibody treatment to reduce the chances of you developing symptoms. If you do happen to have COVID and it's just not detectable under a test, this will potentially prevent you from ever developing a high enough viral load. But all of that needs to occur within 10 days of symptom onset or exposure."
Turner said Tuesday the monoclonal antibody treatment has been available through some area pharmacies for about a week. He said West Side Pharmacy in Benton started an infusion center last week and has been seeing 20 to 30 patients a day, which is what he is expecting their pharmacy to do. East Gate is also going to people's houses to administer the shots.
He said the public response has been very positive so far.
"In addition to the health care workers around here who have wanted a new place to be able to send their patients, the public knowing that there's a new option without having to go all the way to Hot Springs or go all the way to Benton and having the option to get it in their home, has been very positive," he said.
In addition to receiving the antibody treatment, which is meant to delay early onset from progressing to hospitalization, pharmacies are also preparing for COVID booster shots. Turner said getting a booster shot earlier than actually needed, though, is not really beneficial.
"You really do want to wait until that eight-month mark to get your booster to give yourself enough time to actually have an appropriate immune response from the second dose," he said. "The same way that we didn't want to give the second dose before the 21-day mark because you needed an appropriate amount of time from that first one."
Turner noted that since most of the second doses began in early February of this year, most of the booster shots are projected to start in October.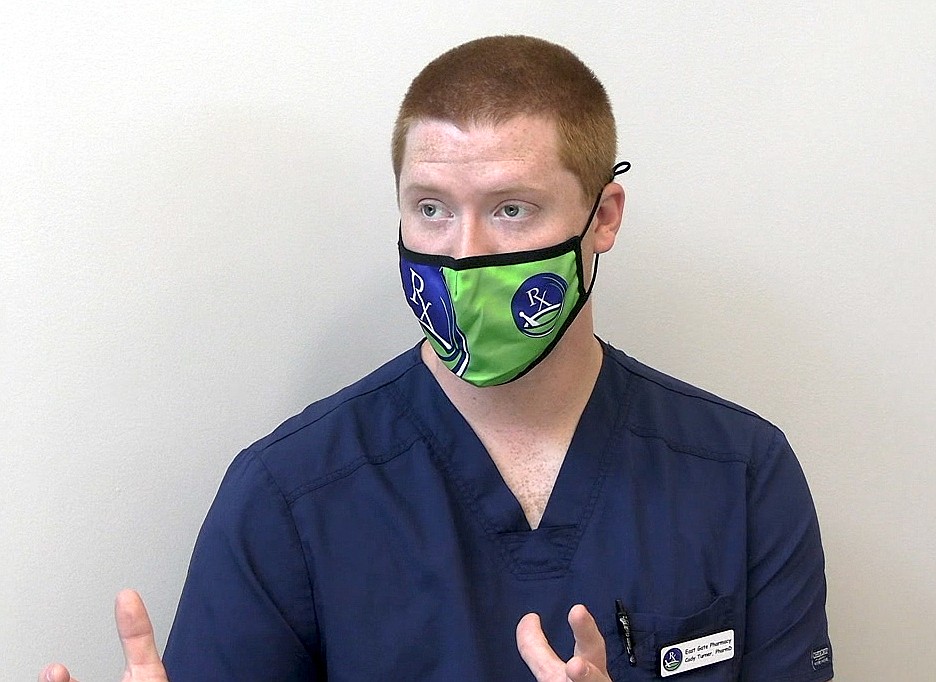 Garland County vaccine coordinator and pharmacist Dr. Cody Turner discusses monoclonal antibody treatment on Tuesday. - Photo by Tyler Wann of The Sentinel-Record