While many people in Hot Springs may have spent the past week shuttered indoors to avoid the unusually thick blanket of snow and subzero temperatures, health care workers continued to get the job done, even if that meant hiking to work in the snow.
Local nurse Rebecca Brenneman-Hull walked about 2 miles across a snow-covered Hot Springs with her husband Monday morning to make it to her shift as a labor and delivery nurse for CHI St. Vincent Hot Springs.
"I could have (called out) but it was just I knew that I wanted to be there. I didn't want to; I just didn't have the desire to call in whenever I knew, potentially, other people were going to really not be able to get there. I didn't want to do it if I was this close," she said.
Video not playing? Click here https://www.youtube.com/embed/G8aHLrYBosg
As the mother of two, including a 7-month-old, Brenneman-Hull said she knew she did not want to spend multiple days away from her family by spending the night at the hospital. Due to the distance Brenneman-Hull lives from the hospital, she and her husband, Philip, chose to pack up their family and stay with her sister in town.
"I knew it was probably going to be pretty bad, but we weren't completely sure, and we live a little bit further out in like Lake Hamilton area," she said. "So, we drove in Sunday before it got bad to go my sisters. I thought that potentially, from (her house), it's about 2 miles to the hospital and that we would be able to reach it in our (Honda) CRV."
Early Monday morning, Brenneman-Hull and her husband attempted to drive to the hospital, but they quickly realized the roads were too slick.
"We were just getting stuck and we looked at each other and we said, 'You know this isn't worth wrecking the car or hurting ourselves,'" Brenneman-Hull said. "We found a way to get back to my sister Abby's house, thank God, and then started trying to call people.
"I called a few people and nobody was really answering me. It was early in the morning before my shift. We looked at each other and he said, 'Well, let's just walk, I'll walk you.' We got all our clothes on and then bundled up and it took about an hour."
While she had the option to spend the night at the hospital, she chose to stay with her family to avoid spending an extended period of time away from her daughter. She said many health care workers she knows either stayed at the hospital overnight or in a hotel room nearby. The hospital also offered rides to some.
Once she arrived, she said she had no problem securing transportation for the rest of the week from her co-workers with vehicles better suited for inclement weather. While thankful for the offers from her co-workers, Brenneman-Hull said the hike through the snow was "actually quite pleasant."
"I was surprised. It was very beautiful and it was very peaceful. Not a lot of vehicles were out and it was cool to see everything kind of just in a winter wonderland. It really wasn't that bad and it wasn't that cold with the right clothing on. So, honestly, it was a pretty good experience," she said.
"The only thing was that once I got to work, I realized I had an icicle in my hair like frozen in my hair. Other than that, it was fun."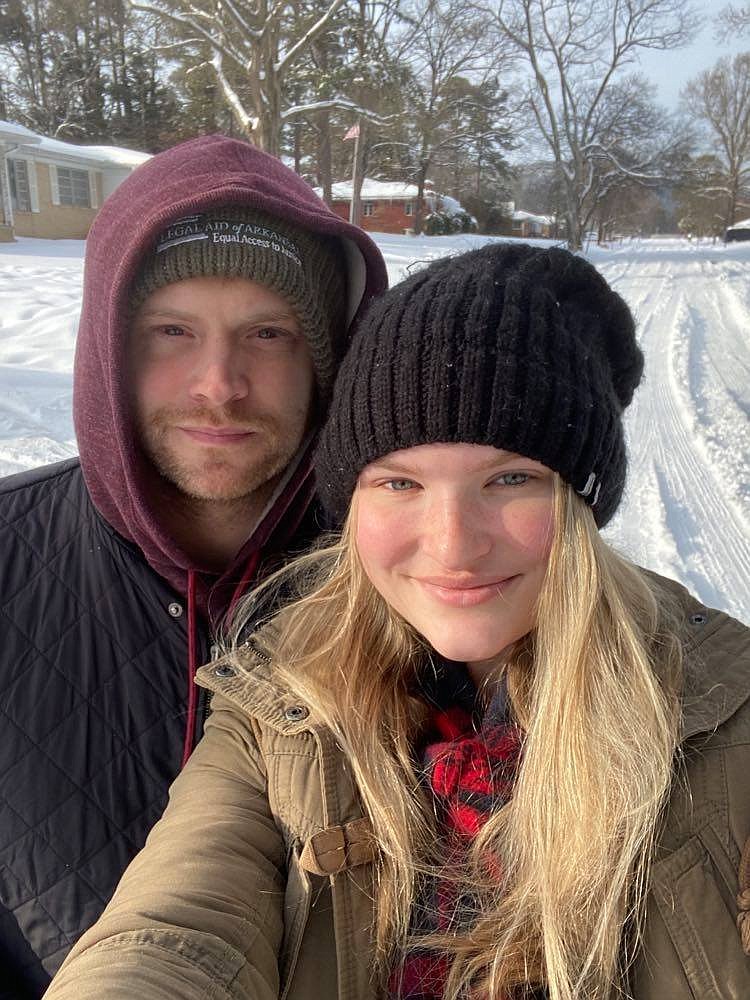 Rebecca Brenneman-Hull and Philip Hull. - Submitted photo