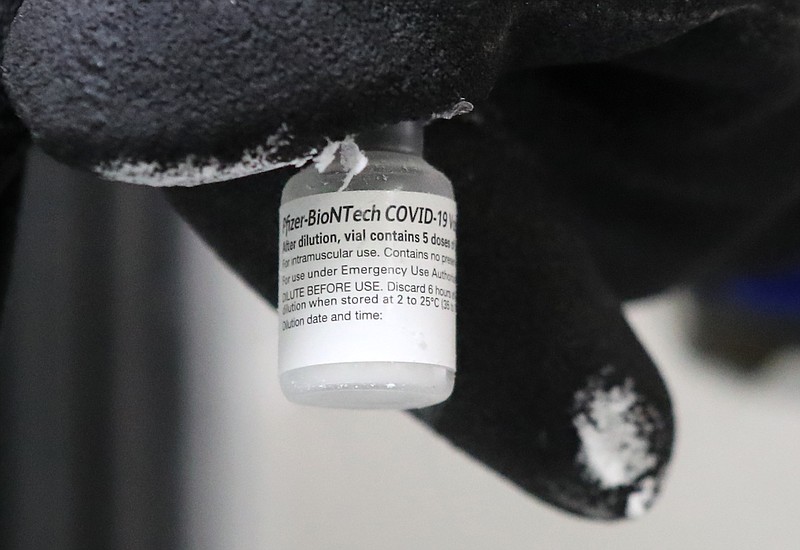 Health Mart Pharmacist Kristen Shamlin displays a vial of COVID-19 vaccine Monday, Jan. 11. - Photo by Richard Rasmussen of The Sentinel-Record
The state's rollout plan for COVID-19 vaccines is still in Phase One, but as quickly as supply and demand will allow, the Arkansas Department of Health expects the next step, which will include vaccinating people 70 and older and certain essential workers, will come sooner than expected.
Estimated to begin in February, Phase One's 1-B sector will likely progress faster due to reduced acceptance of the vaccine by certain people in sector 1-A, ADH Public Information Officer Danyelle McNeill said Monday.
"We feel it's important to move on as soon as possible to the next phase. Unfortunately, this may mean that people who are slow to accept the vaccine may miss their opportunity," McNeill said.
"We also have noted that some people have been reluctant to get the vaccine because they have not been able to get the type of accurate information they need to make an informed decision. In many cases, once someone has received the needed information, they change their minds and make the decision to get vaccinated," she said.
Sector 1B will be for people 70-plus years old; teachers and school staff; food/agriculture workers; firefighters and police not in 1-A; manufacturing workers; grocery store workers; public transit workers; child care workers; U.S. Postal Service workers; and essential government workers.
When the phase does progress to 1-B, McNeill said the sector will likely be tiered, splitting up what group of people in the sector get vaccinated first, but she noted it hasn't been decided who goes first.
The phased approach is necessary in the vaccine rollout plan because there has not been enough vaccine doses to meet the need, she said.
"Therefore we have taken a phased approach and prioritized certain populations to receive the vaccines first based on the recommendations from the American Council of Immunization Practices," McNeill said.
When sector 1-B begins, the vaccine will be available through community pharmacies and medical clinics.
"As the number of doses in the allocation for Arkansas increases, more pharmacies and medical clinics will be able to provide vaccine in 1-B compared to 1-A and some vaccinations will also be provided at worksites of people employed in the priority sectors," she said.
As for whether people will receive the Moderna or Pfizer-BioNTech COVID-19 vaccine, she said it is doubtful people will get to choose which vaccine they are administered as most locations will only have one type of vaccine available at this time.
Regardless which vaccine one gets, everyone vaccinated will receive a vaccination card.
"It's given to each vaccine recipient as their personal record for the date and the type of vaccine they received," McNeill said. "This will serve as a helpful reminder for getting the second dose, either 21 or 28 days after their first dose depending on the type of vaccine they received for their first dose."
Nicki Hilliard, director of professional affairs with the Arkansas Pharmacists Association, said 212 pharmacies in the state currently have COVID-19 vaccine doses. The Pfizer-BioNTech vaccine, which requires "ultracold" freezers to store it, is currently available in 11 counties, and the rest have only the Moderna vaccine.
Garland County is one of the 11, and the Pfizer-BioNTech vaccine is at Village Health Mart in Hot Springs Village.
"Right now, it's supply and demand," Hilliard said. "They can't make it widespread because there's just not enough to go around."
Not all pharmacies will be administering the COVID-19 vaccine immediately. One common pharmacy on the list, she said, is Walmart Pharmacies.
"Not every pharmacy is scheduled to get vaccines," Hilliard said. "For example, Walmart has 40,000 employees in the state, so they're taking care of their employees and they're not taking care of the general public because they have their hands full with their population. On the Arkansas Pharmacists Association's website, there's a list of what pharmacies will be able to distribute the vaccine."
The list of pharmacies that have the vaccine available can be found at https://www.arrx.org/covid-19-vaccine-resources. Hilliard said the list is "constantly changing" with new pharmacies being added.
"Our goal, each week, is to administer 90% of what is received," she said. "So most pharmacies don't have a lot on hand. Each week we get in a new shipment, so some do, depending on what county it's in, and some of those are redistributing to areas that need the extra vaccine because of population. But when it is available and when the governor gives the green light people can contact their pharmacy and schedule an appointment to get a vaccine."
The next sector of Phase One, 1-C, is currently estimated to begin in April, and will be for people 65 and older; people 16-64 years old with high-risk medical conditions; and workers in transportation and logistics; water and wastewater; food service; shelter and housing; finance; IT and communications; energy; media; public safety and public health workers.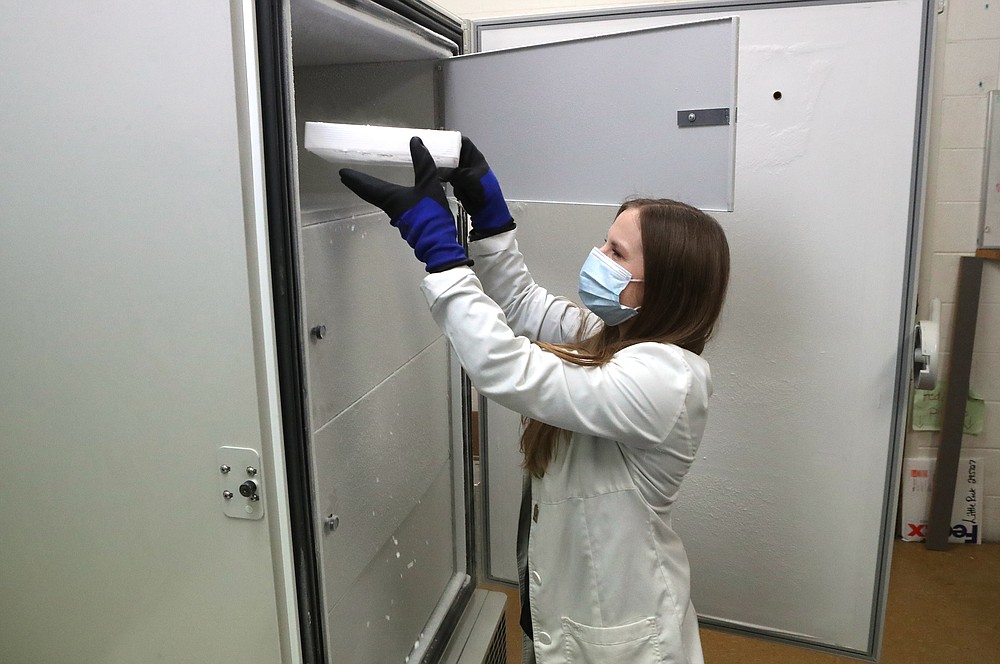 Health Mart Pharmacist Kristen Shamlin pulls a box of COVID-19 vaccines out of a freezer Monday, Jan. 11. - Photo by Richard Rasmussen of The Sentinel-Record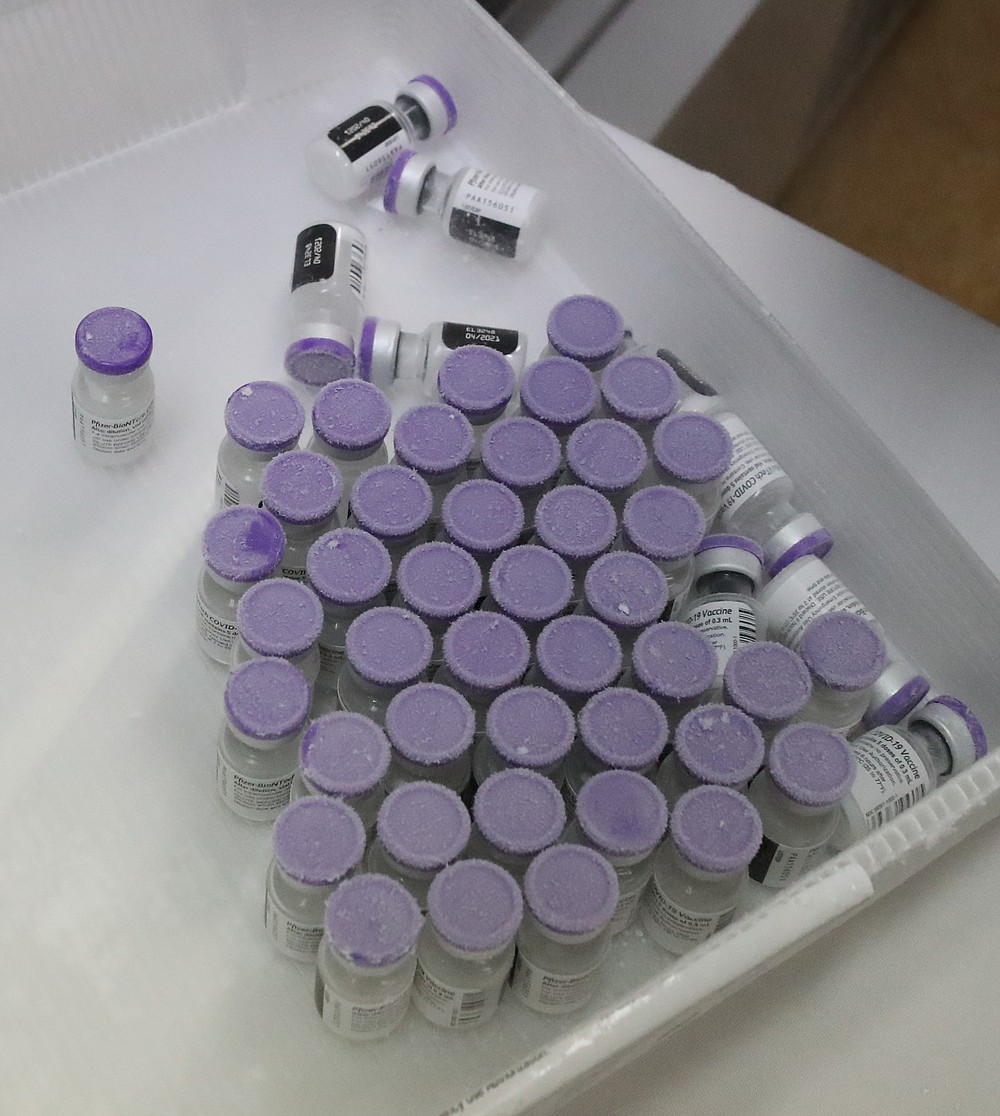 A box of COVID-19 vaccines at Health Mart Pharmacy on Monday, Jan. 11. - Photo by Richard Rasmussen of The Sentinel-Record
Sponsor Content
Comments