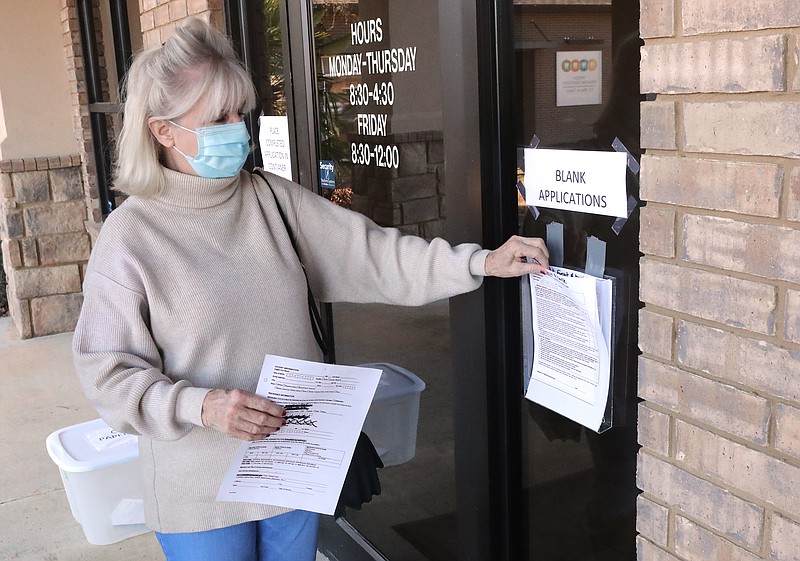 Janice Williams, of Hot Springs, picks up COVID-19 vaccine applications at the Oaklawn Center on Aging offices Wednesday. - Photo by Richard Rasmussen of The Sentinel-Record
There are currently five pharmacies in the county putting names of seniors aged 70 and older and educators on their waitlists to get vaccinated on the heels of Gov. Asa Hutchinson's announcement on Tuesday that those groups are next in line for the COVID-19 inoculations.
Educators include kindergarten-12th grade teachers and staff, day care workers and higher education personnel.
This will mark the transition from Phase 1-A into 1-B of the government's vaccination plan.
The pharmacies providing vaccinations include:
• Express Rx at National Park, 105 Sawtooth Oak St., 501-623-2222. Visit expressrx.net to be placed on the waitlist.
• Fountain Lake Family Pharmacy, 4517 Park Ave., 501-547-3400. Visit fountainlakefamilypharmacy.com to be placed on the waitlist.
• Smith Drug and Compoundin-Airport Road, 1629 Airport Road, Suite D, 501-767-2220. Call, or visit smithdrugandcompounding.com to be placed on the waitlist.
• Smith Drug and Compoundin-Mercy Lane, 1 Mercy Lane, Suite 103, 501-624-2900. Call, or visit smithdrugandcompounding.com to be placed on the waitlist.
• Village Healthmart No. 1, 4440 Highway 7 north, 501-922-0777. Visit villagehealthmart.com to be placed on the waitlist.
An updated list of pharmacies providing the vaccine statewide can be found at https://bit.ly/3bD4rNy.
Oaklawn Center on Aging is also taking forms until noon today from patrons who wish to get vaccinated through a currently undisclosed third-party provider. The forms can be downloaded and printed out from its website, http://www.oaklawncenteronaging.com, and can be returned to its physical address at 307 F Carpenter Dam Road. They are uncertain when they will begin vaccinations, but do not plan to be ready by Monday due to a higher-than-expected volume of participants.
As 1-B progresses, other groups of people who will be eligible for vaccination include food/agriculture workers; firefighters and police not in 1-A; manufacturing workers; grocery store workers; public transit workers; U.S. Postal Service workers; and essential government workers.
Phase 1-B was not scheduled to begin until February, but Arkansas Department of Health Public Information Officer Danyelle McNeill said Monday that Phase One's 1-B sector will likely progress faster due to reduced acceptance of the vaccine by certain people in sector 1-A. She added that reluctance to get vaccinated when someone becomes eligible may result in them missing their opportunity, as ADH feels it's important to move on "as soon as possible" to the next phase.
The next sector of Phase One, 1-C, is currently estimated to begin in April, and will be for people 65 and older; people 16-64 years old with high-risk medical conditions; and workers in transportation and logistics; water and wastewater; food service; shelter and housing; finance; IT and communications; energy; media; public safety and public health workers.
Hutchinson said Tuesday the vaccination plan for the population not included in Phase One's A-C sectors will be released by the end of the week.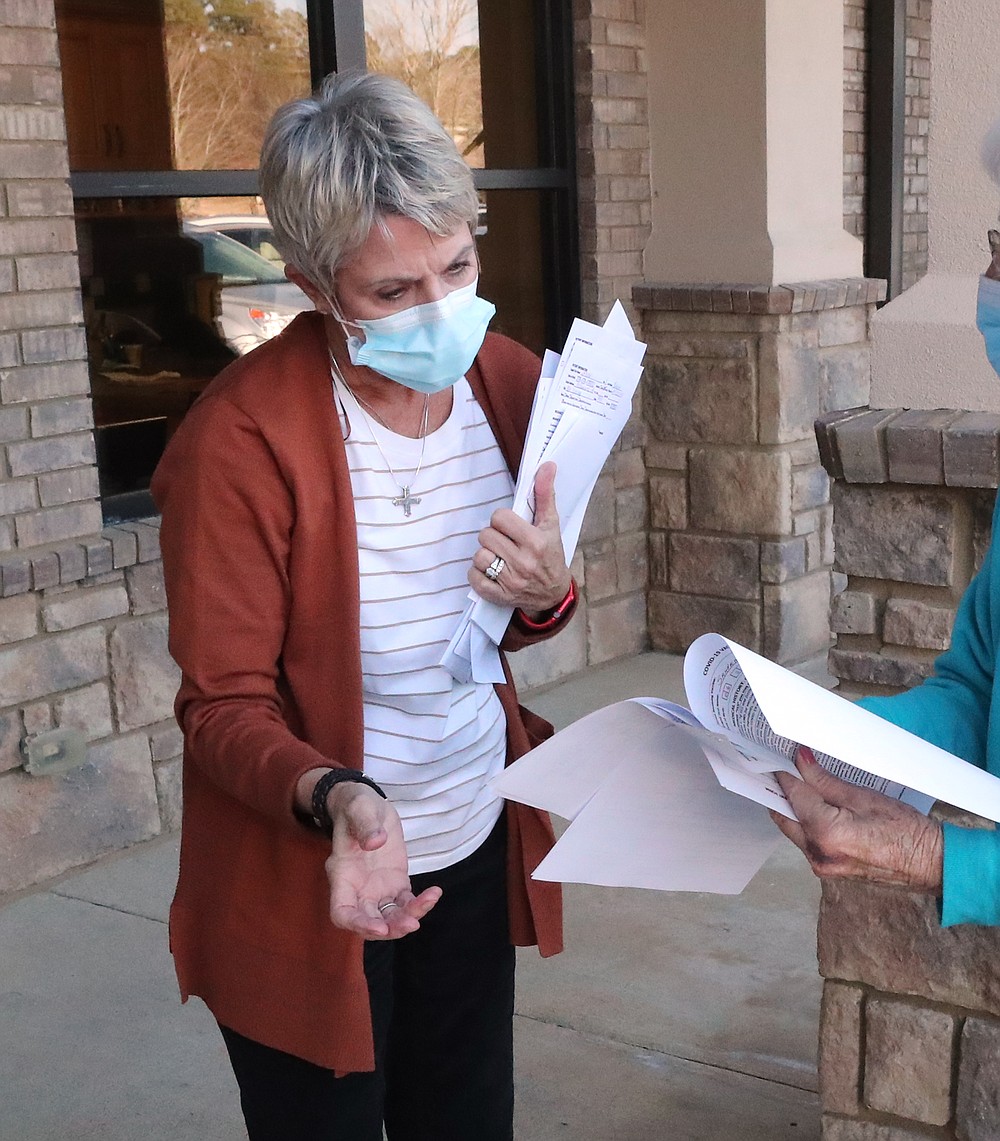 Oaklawn Center on Aging Executive Director Kathy Packard accepts some COVID-19 vaccine applications at the agency's offices Wednesday. - Photo by Richard Rasmussen of The Sentinel-Record
COVID-19 vaccine applications available at the Oaklawn Center on Aging offices Wednesday. - Photo by Richard Rasmussen of The Sentinel-Record
Sponsor Content
Comments