In addition to providing free and healthy meals throughout the year via the schools' cafeterias, the Hot Springs School District, in conjunction with Chartwells Higher Ed, is offering those meals free during the summer as well with their TrojanEats Food Truck.
Hot Springs School District Communications and Public Relations Coordinator Adriane Barnes said, as of Tuesday afternoon, the district had served 22,956 meals to Hot Springs area residents.
"The Hot Springs School District works with our food service provider, Chartwells, to make sure that our students are fed all summer long," she said. "And it even goes beyond Trojan students. As far as the Hot Springs School District goes, any of the food that we offer is free to children 0-18 years old. We don't care where you're from; we don't care which district you live in. ... We want to make sure you're well-fed."
Barnes said while the meals are free to those 18 and younger, they are available at a considerably lower price for anyone older than 18. Over the last two years, the district worked with Chartwells to create the program in order to take food to families throughout the city.
Video not playing? Click here https://www.youtube.com/embed/ogFPCOmMaVw
While the summer program runs from June 21 to Aug. 5, both breakfast and lunch will continue to be provided for free during the school year.
During the summer, pickups are available Monday through Thursday at four different stops. From 11 to 11:30 a.m., families can pick up meals at the Family Dollar store located at 899 Park Ave. From 11:45 a.m. to 12:20 p.m., pickups are available at Walmart Neighborhood Market at 1544 Malvern Ave. From noon to 12:30, it is available at Park Magnet Elementary School on Main Street and the Hot Springs Junior Academy on Emory Street next to the high school.
Barnes said Thursdays are special as the offering of meals are combined with the offering of books.
"On Thursdays only, our Trojans Read Book Bus also runs," she said. "And the book bus goes alongside the food truck at that Family Dollar stop and the Walmart Neighborhood Market stop.
"The book bus also visits all of the elementary schools -- so all four of our locations -- and it's a wonderful way to make sure that books, as well as meals, are staying in the hands of our families all summer long. So same rules apply -- absolutely anyone is invited on the bus. Come and get books for all reading levels and across genres and it's a very loose borrowing system. So when you come on the book bus, we welcome you, we're glad to have you, and we ask families to pick three to four books per kid. If you can bring them back -- wonderful, but if you don't, just make sure that someone else reads them and we keep passing that along."
Barnes noted that in a perfect case scenario, a huge group of kids stop on a Thursday and receive free meals and free books, thus ensuring they are well fed and continue some sort of learning during the summer.
"We tell parents, if you have multiple kids in the house, you are welcome to pick up food for any of the kids there," she said. "When you come to the truck, we give it to you in a bag. We operate Mondays through Thursdays and on Thursdays if you come, we'll bundle a larger than usual bag to make sure that kids are fed through the weekend."
It is very important to the district, Barnes said, to not only have high-quality, healthy food available to the families, but to do so consistently.
"Because a good education is based off of relationships and it's also based off of taking care of our community all year long. Unfortunately, summertime is often hard for a lot of families who may not have easy access to child care, especially with the COVID pandemic.
"We also have people who are in and out of work. We have individuals and families who might be in charge of large groups of small children at once, so a grandma or a general caretaker, and they use the services that we provide to make sure that everybody is well-fed in the home," she said.
"And again, Chartwells does a wonderful job of not only providing free meals, but it's not like the food we ate when we were kids. I mean, it's very -- it's fresh, it's prepared that morning in most cases, it's high quality, and Chartwells has even brought in chefs in some cases and they're cooking on an open grill inside the food truck just to show people that the food is there, it's accessible to them and it's as fresh as possible. ...
"It's important that we offer these places -- the food giveaway sites at our schools -- because that's also where families are coming for summer school. So it's very easy preparation by Chartwells' staff because they are already feeding summer school kids and they simply prepare extra and have that for pickup."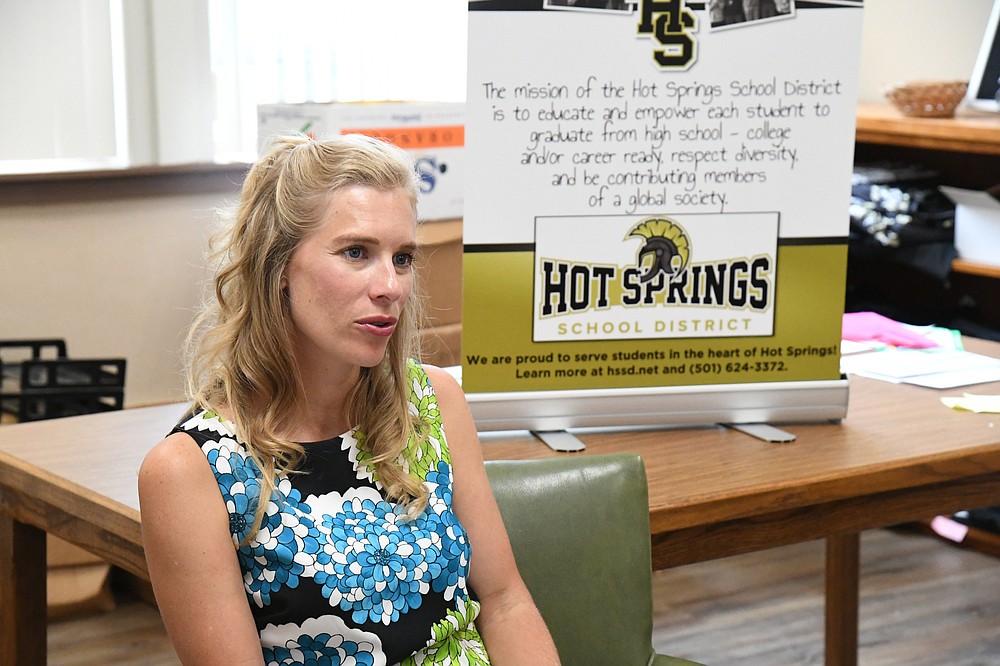 Adriane Barnes, communications and public relations coordinator at the Hot Springs School District, discusses the summer food program on Tuesday. - Photo by Tanner Newton of The Sentinel-Record