After sitting out 2020, and missing its normal spring 2021 dates, the Valley of the Vapors will return to Hot Springs in October as an outdoor music festival.
The 17th annual Valley of the Vapors Independent Music Festival, hosted by Low Key Arts, will switch from a four-day indoor event to a two-night, outdoor event at Cedar Glades Park, Sonny Kay, LKA's executive director, said in an interview earlier this week.
"It seemed as though there's been a real sense of people missing the festival here in town, and at the beginning of the year it was looking fairly likely we would be able to have it in the spring, and had to postpone that as well," Kay said.
"As we were looking at the rest of the year, we felt like of all the events we do annually, the one that people have certainly expressed the most remorse about losing due to the pandemic has been VOV, so we're excited about getting that back on the calendar as quickly as we could," he said.
Canceling the 2020 festival "was a real disappointment," he said.
"We canceled at the eleventh hour. We were about 10 days out from the beginning of the festival when we had to do that. It was demoralizing; there's no other way of putting it."
Kay said the hurdles 2020 threw at them created "a great opportunity to re-imagine the festival and bring people something unpredictable and maybe create a whole new tradition."
Video not playing? Click here https://www.youtube.com/embed/nVxWjhFXk-Y
Past festivals have been held in March around the same time of the South by Southwest festival in Texas, Kay said, noting they usually hold the festival a few days before or after SXSW to catch both bands and audience members as they travel to or from the event.
Kay said once the pandemic is over, they intend to return to their normal schedule to coincide with SXSW.
Low Key Arts announced the rescheduled festival in an email on Friday.
Kay said in the email that, as things began reopening this year, "our board of directors and I made the decision to forego our annual Hot Water Hills Music & Arts Festival this fall, in favor of producing a re-imagined version of VOV that would really feel like something special. Almost a hybrid of the two events, but musically very much VOV. Taking the festival outdoors this year just feels right. Cedar Glades has so many incredible things to offer. We want to create an unforgettable music festival experience that takes advantage of Hot Springs' scenic surroundings and that builds on something people know and love."
Kay, in the interview, said that Cedar Glades will be open for overnight camping for the event.
"We have received permission from Garland County to have camping out at the park, which as I understand, it has been off-limits to campers for the last couple of years," Kay said.
"We're really trying to model this sort of on the classic example of an outdoor music festival where we have this wonderfully large festival grounds that we're able to take advantage of and spread out," Kay said.
Kay said all the amenities of the park like the Northwoods Trails, disc golf and the rock wall will be available to attendees.
The festival will have "what we consider to be a really strong lineup of great, underground bands," he said.
Bands confirmed include Psychic Graveyard, Holy Wave, Deeper, Ohmme, Esme Patterson, We Are The Asteroid, Various Blonde, Estereomance and Crush Diamond.
Kay said he can't wait to hear the first performance of the festival. "Once the first note is struck, I feel we're all going to breath a sigh of relief because everything will have fallen into place, theoretically," he said.
Tickets will go on sale in July.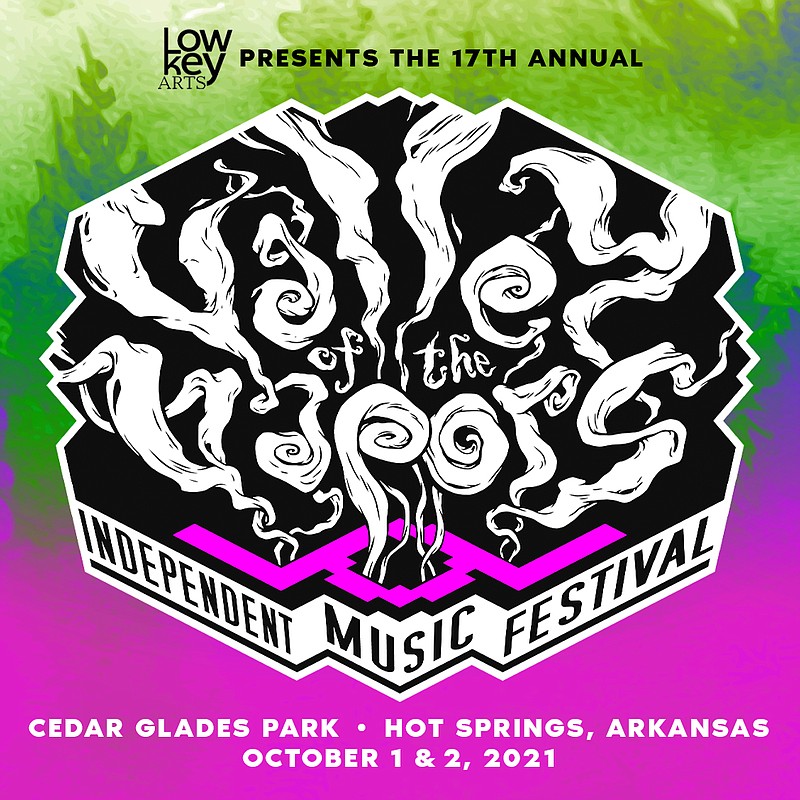 Artwork for the Valley of the Vapors Independent Music Festival was released Friday. - Submitted photo