After a delay due to COVID-19, the eighth annual The Birth of An Artist fundraiser will take place on Nov. 13.
Each summer, dozens of children participate in a free art class provided by Cutwell 4 Kids. After the summer program ends, the students get the chance to display and sell their artwork at The Birth of an Artist show, which will be held this year at Whittington Place, 201 Whittington Ave.
"The main reason for the celebration is the youth who spent their time over the summer painting and drawing during the pandemic, still creating, still staying positive," said Anthony Tidwell, founder of C4K.
Video not playing? Click here https://www.youtube.com/embed/xBvCYHlP4wU
Tidwell said around 20 students are involved in the show so far. "I never know the set number amount until the day of because I try not to turn down any parent or child who wants to be in the show, and every day it evolves."
The event was originally scheduled for earlier in the year, but Tidwell had to delay it due to the pandemic.
"We had a child who had COVID and we had a parent who had COVID. I had a relative pass away from COVID, so I didn't want the art show to jeopardize anyone's health. The whole thing about Cutwell 4 Kids is providing a safe place, and I just felt it wouldn't be safe to have it at the time when COVID numbers were high," Tidwell said.
Previous Birth of an Artist shows have had a featured artist, but due to the schedule change, the original featured artist is no longer able to attend the show, he said.
"This has been a challenging year ... we had a featured artist and, as you know the show was supposed to be in August but it was postponed, and due to it being postponed, we won't be able to feature our featured artist," Tidwell said.
"So there's no actual one featured artist but ... all the artists will be featured," he said, noting he likes the work the students were able to make.
"I'm very impressed with the youth that participated over the summer. We didn't have that much contact, we didn't have that much interaction due to limited amount of time we had during the pandemic, the limited amount of space we had, so a lot of the youth did their work on their own, and I'm highly impressed with it," Tidwell said.
"If it's in the show, it has some value," he said. "I know art is subjective. It may not impress someone else, but every piece I hang in The Birth of an Artist has a meaning to me, is special to me."
Tidwell said the pandemic made both the 2020 and 2021 seasons difficult.
"The last 19 months man have been rough; it's been challenging," he said, "The youths' mental health is in jeopardy right now. The stress level is high and you have family members that's passing away, and at young ages, and if it's not from COVID it's from gun violence. Due to emotional stressful issues that they're dealing with, it's just been a tragic time."
While this time "has been rough on Cutwell 4 Kids," Tidwell said he stuck with the program because it gives the children "an outlet to express themselves, so we carry on."
The Birth of an Artist is "almost like a stress release. It's about them, to enjoy the day, and eventually, you know, produce some income. Some artists never sold a piece of work before in their life and this gives them an opportunity to see how the economic side of being an artist, how it can actually create revenue," Tidwell said.
The young artists will get money from the sales of their work, he said, and if they matte and frame their artwork, and then hang their work and talk with the customers, they get all of the money from the sale.
"The artists receive 80% of their sales. If a child sells a piece of their art for $20, the child, the artist, receives $15, C4K receives $5. But here recently I molded, I educated, I trained artists to prepare their own work, and if they do all the matting and the framing and actually curate their own art show or their own art pieces at the art show, we don't receive any percentage," Tidwell said.
"If the artist take on that responsibility, they learn how to matte their own work, learn how to frame their own work, they be there to hang their own work -- also to take it down if it don't sale -- they receive 100% of the proceeds," he said.
There will also be entertainment at the show.
"We plan on having some great musical talent from R&B to poetry to even hip-hop," Tidwell said, including performances by trumpet player Rodney Block and poet Ron McAdoo.
Admission for the show is $25.
Tidwell said he and the C4K committee of Laura Lee Willard, Mechele McNary, Mary Zunick, Dawn Cattaneo and Deondra Swanigan are already preparing for the 2022 season.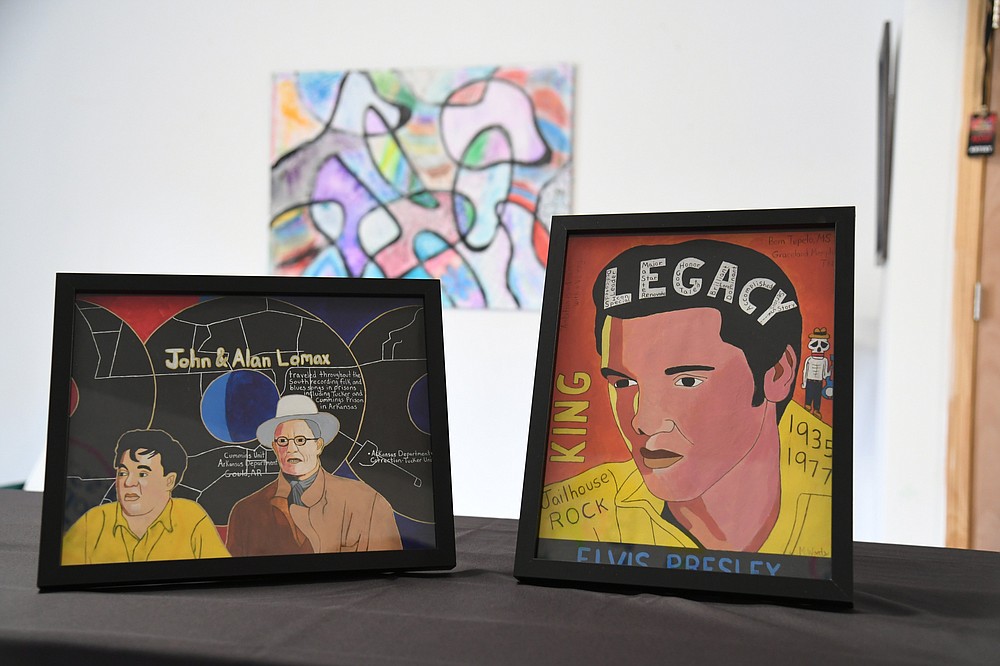 Art by Markeith Woods, front, and a painting by Carrie Gaston and around eight C4K students, will be for sale at the annual The Birth of an Artist show on Nov. 13. - Photo by Tanner Newton of The Sentinel-Record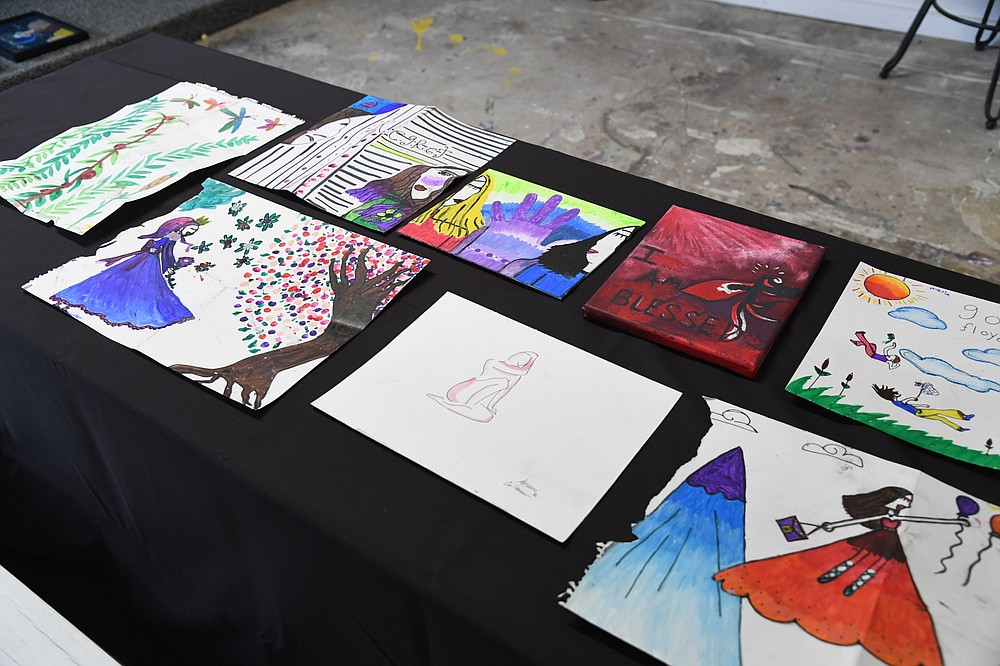 Artwork by C4K students will be for sale at The Birth of An Artist. These pieces will be matted and framed prior to the show. - Photo by Tanner Newton of The Sentinel-Record