The Garland County Library has started holding in-person activities this month with multiple events planned for the rest of the year after nearly two years of virtual events via Zoom and Facebook Live due to COVID-19.
The first in-person event since March 2020 was a Halloween fishing derby, which was held outdoors, and this month, the library has held several small in-person events such as arts and crafts shows and teenager book clubs.
The biggest in-person events were a bluegrass concert on Nov. 4, and Magical Creatures Night on Friday. The library's website calendar indicates the library will have 20 in-person events in December, and 17 in-person events through the rest of November.
Erin Baber, the library's public relations/marketing coordinator, said County Judge Darryl Mahoney recently dropped the mask mandate for county buildings, "so for a long time we were having to enforce masks here."
"People don't really think of us necessarily as a county building, but we are, so people would have to wear a mask to come in here. We did accommodate, as we could, for people by curbside pickup and our delivery service, but that's been relaxed a little bit. Our board's been watching the COVID numbers and our director is in constant contact with Dr. Gene Shelby, the county health officer, about numbers, and we're adjusting as we can," Baber said.


Video not playing? Click here https://www.youtube.com/embed/q5gRklfkkoA
The return to in-person events depends on how the pandemic is going. "So if we plan all of these in-person programs and the numbers start to go up, you know, everything is kind of subject to change right now. Pretty much every program is subject to change," Baber said.
Most of the in-person events will be aimed at older children, but some events will also be aimed at adults, she said.
"I spoke to our youth services director, Tiffany Hough, and she said that we are starting a lot more in-person services with children, but not so much for the smaller kids because they're not as great at distancing, so kind of a middle-aged kids and teens is what we're really coming more in-person with right now," she said.
Emily Johnson, a marketing assistant at the library, started during the pandemic so she wasn't able to experience in-person events at the library until now.
"I think it's great, and everything's being done safely, which I think is really important," Johnson said.
"We've always done safety walks every hour just to make sure that the doors that need to be locked are locked and also a chance to check, you know for any kind of tripping hazard," Baber said, "We walk around now and clean door handles and spray down surfaces that are often touched and do some cleaning that we did before but not quite as often as we do now."
While in-person events are back on the calendar, Baber said the library will continue to offer virtual events.
"A lot of parents have expressed that they really like the virtual option, so those won't be going away.
"We've done Zoom. We doing a lot of our adult programs, we're doing on Facebook Live," Baber said, with the videos also shown on YouTube and Twitter.
"And those work really well because we have viewers that can tune in from anywhere. So we've had some author talks and the historical society does a monthly program with us as well as the Hot Springs Area Cultural Alliance does a Gallery Walk talk every month, which features different local artists, but they get views from all over the county, so we'll probably continue doing those," Baber said.
"I'd like to think that we're going to pivot to a live and virtual option so we can have a small audience in-person to interact with more directly than just, you know, questions and comments online," Baber said, noting the virtual events have been successful.
"You know, our auditorium, fire capacity is like 115, so that would be the max we could ever do. Some of these programs, by the time they finish airing, the next day they can have up to 300 views already," she said.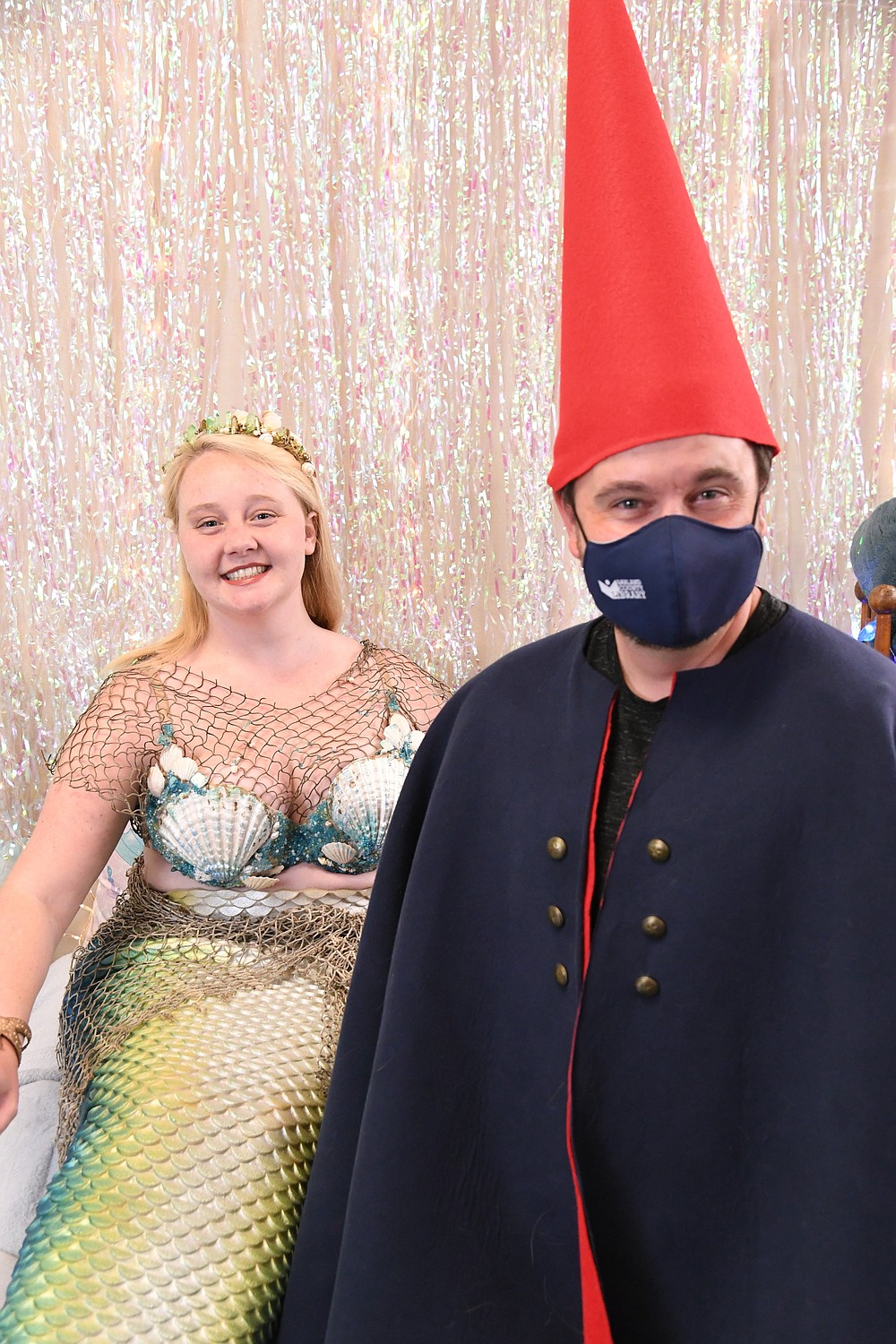 Sophie the Mermaid, left, and gnome Adam Webb, Garland County Library director, attend Magical Creatures Night. Numerous in-person events are planned for the library for the rest of the year. - Photo by Tanner Newton of The Sentinel-Record