What started as a small gingerbread house in the lobby of the Arlington Resort Hotel & Spa in the 1980s has grown into a grand structure and a much-anticipated annual Christmas tradition in downtown Hot Springs.
Gaye Hardin, the Arlington's executive administrator, says the gingerbread house was small in the beginning, similar to a cabin in the woods, but 15 years ago grew into a Victorian-style structure.
"We have a wooden structure that we use every year. ... We try to make it different every year, as far as the type of candies that we use, try to make it look a little different," she said.
"We start with a clean slate, just the wooden structure. And, of course, our chef bakes the gingerbread and we put it on with frosting. Everything is put on just with frosting. Once the gingerbread is on, we start the decorating with the candy."
The designers use different types of candy for different parts of the house, such as the melted Jolly Ranchers wrapped around the poles on the porch so they are all one solid color.


Video not playing? Click here https://www.youtube.com/embed/LldF4aJfMbo
The Arlington will have a train installed that will go around the house and the yard will have lights, snow, figurines and a fence around the house so that guests and patrons can view it.
Guests and visitors will be given the chance to guess the amount of candy on the house and, if they are close, could win a prize. In addition, a mailbox will be placed in front of the house where children can send out their letters to Santa.
The community loves the house, Hardin said, "We have people that come every year; it makes a terrific backdrop for family Christmas photos."
Once the holiday season is over, the gingerbread house is taken down, and the maintenance staff scrapes it clean, washes and prepares it for storage for next year.
"Everyone wonders if we get to eat the candy, but we don't. We don't encourage that since it's been sitting down there for a month and a half. Although the wrapped candy may still be good most of it is not wrapped," Hardin said.
The gingerbread house is set to be completed today and will stay up until New Year's Day.
"We invite everyone to come out and visit our creation. It's a labor of love for our staff," she said.
"I would like to thank our chef and kitchen staff and especially Carmen Jones and Melanie Hancock for their contributions; they have put in many hours on the house and others as well, but it's truly a labor of love."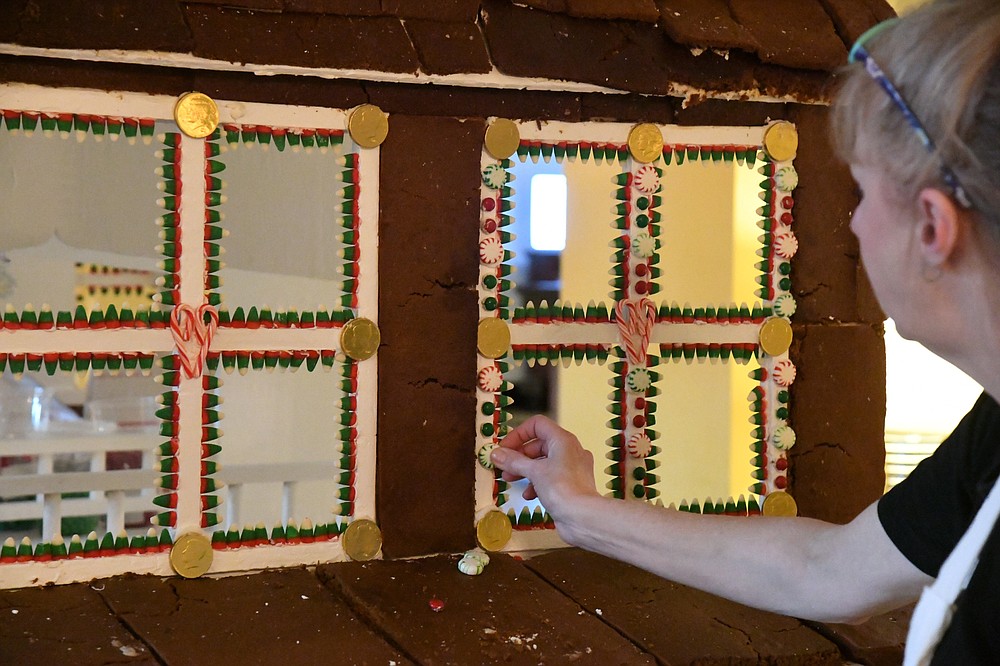 Melanie Hancock decorates the gingerbread house in the lobby of the Arlington Resort Hotel & Spa. - Photo by Tanner Newton of The Sentinel-Record