Despite rain and cool weather earlier in the day, and the second year of a pandemic, thousands of people turned out Thursday to receive free Thanksgiving meals from local churches and service organizations.
While most offered the holiday meals on Thursday, The Salvation Army of Hot Springs held its event on Wednesday night. Captain Bryan Brinlee said that they made enough food for "160 plates tonight (consisting of) turkey, dressing, gravy, mashed potatoes."
Brinlee said that they had "tons of volunteers here," noting that many of the volunteers were from Sisters in Service Lakeside. For the first half-hour of the Thanksgiving meal, which was a sit-down meal at The Salvation Army, there was a steady line of people.
Two churches that gave out food for lunch on the holiday were Grand Avenue United Methodist Church and historic Visitors Chapel AME Church.


Video not playing? Click here https://www.youtube.com/embed/Cruw-gZG0SI
The Methodist church gave out turkey meals from 11 a.m. until 12:30 p.m. Tonja Bolding, Grand Avenue's Thanksgiving meal coordinator, said that they cooked 200 pounds of turkey for the holiday. They have been giving out Thanksgiving meals since 1997.
"We are prepared to do 500 (meals)," Bolding said. She added that if they still had any food by the end of the day, they would donate the leftovers to Potter's Clay or to Samaritan Ministries.
Bolding said that the church started making their meal on Monday, and that the volunteers started volunteering around 7 a.m. on Thanksgiving to have the meal ready by lunchtime.
After an inclement start to the day, the rain stopped just before the church started giving out food. Bolding said that she hoped that with the weather improving that more people would show up for the meals. "Now that it's not raining, it's cool but not as cold as it has been," she said.
When the doors opened at the church, a line of around 40 people had gathered there. She said that it was a good start and that usually during Thanksgiving, crowds come in spurts throughout the meal.
Due to the ongoing COVID-19 pandemic, Bolding said that they decided to provide to-go meals only. Prior to last year, the meal has always been a sit-down event. Bolding said the church is "very much hopeful" that they will get to return to a sit-down meal in 2022.
The Giving Team Inc. held its 17th "A Thanksgiving to Share" event at Visitors Chapel.
The meal was served from 11 a.m. until 2 p.m. Janice Davis, founder and president of The Giving Team, said that by noon they had given out over 800 meals of the 1,500 that they prepared.
"It's just a great day to be here with The Giving Team," Davis said.
Davis said that due to the pandemic, they also decided to not hold their usual sit-down meal. All meals given out at the AME church were to-go orders.
When asked why they continue to offer this meal every year, Davis said "because everybody is not in the same place in life."
"This year, more than ever, it's important to reach out to people in need," she said, noting the strain that the pandemic has put on many people.
Davis also said that these efforts are done "to make then feel that their life is just as important" as everybody else's.
"We put so much stock into holidays, as a nation, so it is important to me (that holiday meals are available) for everybody to experience," Davis said.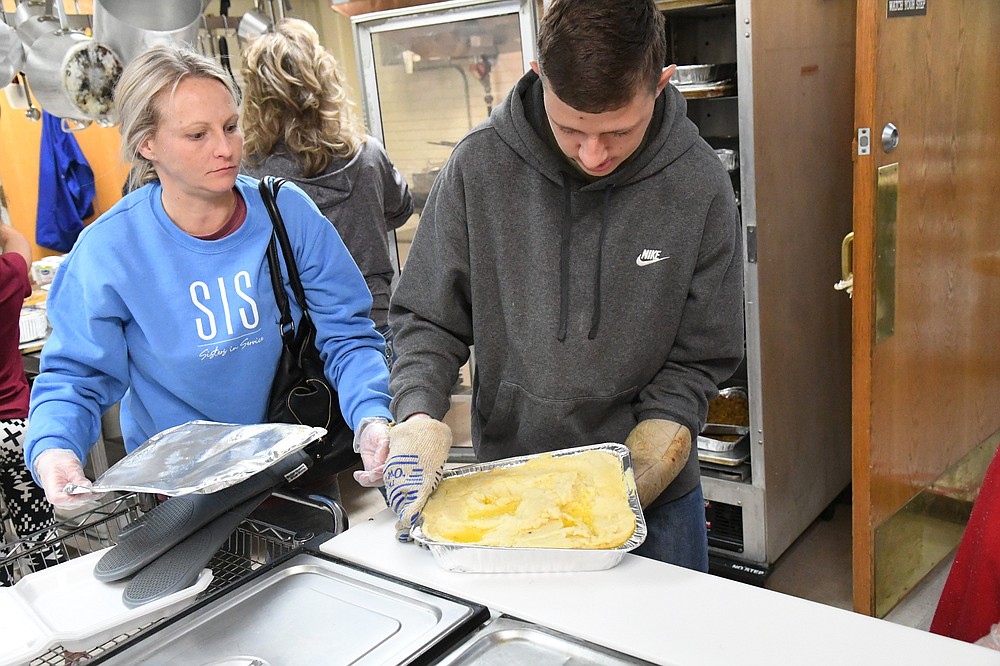 Volunteers Ashley Allison, left, and Keith Hardage prepare mashed potatoes during The Salvation Army's Thanksgiving meal on Wednesday night. - Photo by Tanner Newton of The Sentinel-Record