Over 200 female volunteers are spending the week helping to construct two houses on Terryland Circle as part of Garland County Habitat for Humanity's annual Heels to Hammers event.
The weeklong event, which focuses on female volunteers, has been held for six years. The 2020 build was scheduled for last September, but due to COVID-19 concerns, the two houses were instead built by Habitat's usual crew of volunteers.
"This is where we have the opportunity for women in the community to come out and build on a construction site -- that's not something that a lot of women have done, so it's kind of fun to come out, as a group of women, and swing a hammer," said Habitat's executive director, Cindy Wagstaff.
After having to cancel last year's event, she said she is "very happy, and I think everyone here is very happy. A lot of the comments we've gotten are very happy to have this back."
In addition to helping get the houses built, the event also helps teach the volunteers new skills.
"I think this is a great opportunity for our regular construction crew to teach a whole new group of future volunteers," Courtney Post, Habitat's public relations coordinator, said.
"What we have found is a lot of these women, when they come out and they build this week, they typically, a couple of them come back week after week, and they want to volunteer for us," Post said.
"Everyone is learning something that they can really take home and use at home if they want to," she said.
Today's build is dedicated to Ann Caruso, who died in 2020 from ALS, Wagstaff said. Caruso and her husband, Mario, were "instrumental in Habitat beginning with the first house."
Video not playing? Click here https://www.youtube.com/embed/-n1f9gSPRow
"When she came into the picture, she created fundraiser events and, I mean she really contributed to (our) financial stability that was just so desperately needed in those early days," Wagstaff said. "She was just so involved in so many things in Hot Springs, and I know so many people miss her."
This week's build includes two homes, one a three-bedroom house and the other a four-bedroom home.
On the second day of the build, around 30 women signed up to help with the final three days of the build all booked up with 40 volunteers, Wagstaff said. "We are full for the rest of the week."
Wagstaff said the large number of volunteers, joined by their usual construction crew, will be able to get a lot of work done on the two houses.
"We will have accomplished a lot by Saturday," she said, noting she expects they "will have both houses framed, have roof trusses on and we'll possibly have them wrapped."
The build saw a mix of new and returning volunteers, including Cora Jones, who has participated in each Heels to Hammers event Habitat has hosted. Asked why she keeps returning to help, Jones said it was "the excitement of building a home for someone and just helping somebody else."
Jones said she was disappointed when the 2020 build was canceled "because I was looking forward to it."
She said Wednesday was the only day she was able to volunteer due to the rest of the week being booked up. "So that's great, we got everybody to participate, I think that's wonderful," she said.
"Isn't this wonderful how people come together to help someone else to make their dream come true? To be a homeowner, that's America's great dream, and this is part of it and so, just think, when we sign our name up there, we're a part of making history for someone else's life," Jones said.
Another volunteer was Cecelia Clegg, who was participating in the event for the first time.
"This is one of the best -- I love this," Clegg said. While this is her first time helping on the Heels to Hammers project, Clegg has helped with GCHFH for over a year. A previous Habitat home was built for Clegg's daughter.
Dennis Cooper, director of community engagement, said new homeowners have to volunteer a specific number of hours before they can get a Habitat House.
"If you're on the list to get a house, one of the ways, if you're a single parent for instance, you have to volunteer 300 hours ... of those 300 hours, other people can help you and donate up to 100 hours to do that. Well in addition to helping her own daughter, (Clegg) has helped eight other families," Cooper said.
He noted Clegg helped by bringing breakfast to the construction crews once a week for the past 15 months.
"Every week she's been bringing, not (doughnuts), she's bringing a hot breakfast to the crew once a week, and it's been, now we're talking 14-15 months," he said.
"I helped my daughter and when I saw how much it meant to her, and I saw how many other people were struggling with their hours, the only thing I could do was do my part," Clegg said. "I believe in it. It helps people. It's a worthy cause."
One of the regular volunteers that helped teach the new volunteers was Bob Urban.
"It's a hoot. It's a lot of fun, the women get to come out here and swing a hammer, it's not something they get to do on a regular basis and we guide them enough to keep them safe and just let them have fun," Urban said. "And plus they kind of learn something out here, I know I do."
The two houses will be finished in 2022.
"We'll probably dedicate these late spring/early summer. It kind of depends on availability of materials. I know that everybody's experiencing shortages in various sections, so we are not immune to that," Wagstaff said.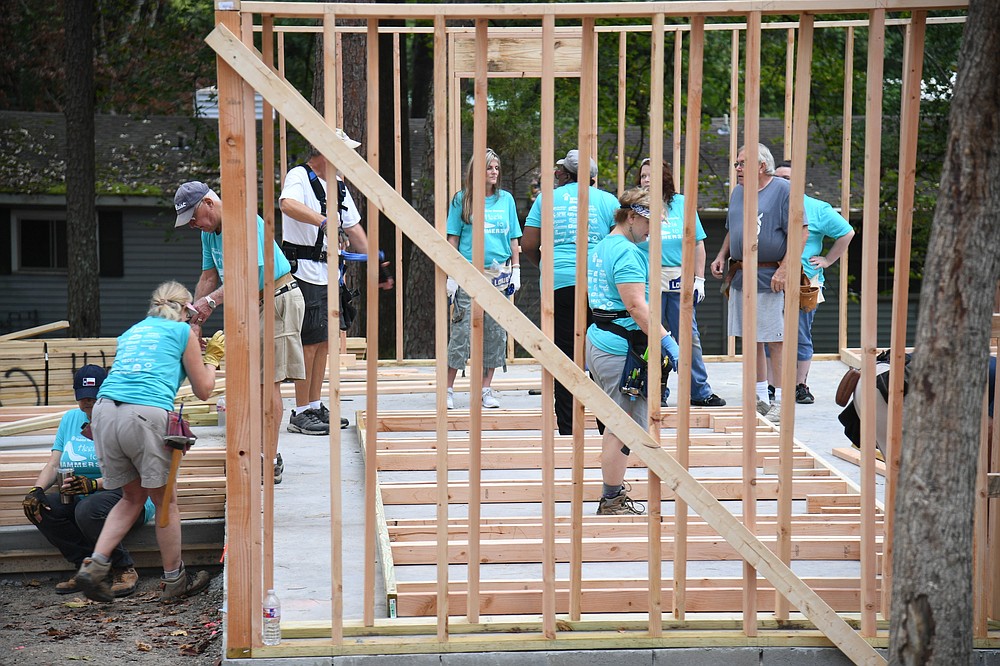 Habitat for Humanity's sixth annual Heels to Hammers women's build was underway Wednesday on Terryland Circle, where volunteers are building two houses in 2022. - Photo by Tanner Newton of The Sentinel-Record