"What led me here was actually chance," says Rachel Keeling, Hot Springs' stormwater coordinator.
Keeling stepped into the position a year ago, in October. Within the year, she says she went from knowing nothing about the field to being in charge of educating the community about the importance of keeping "our lakes looking pretty."
The community uses the area lakes, but doesn't always realize the importance of keeping them clean.
"We get tourism from them, we want to keep them safe and clean. Most everybody enjoys going to the lake, most everybody enjoys swimming in the creek. You know, those are things that people enjoy doing. And we want to keep those available for people. We don't want trash everywhere and we don't want oil in our creeks. And so once you explain that to people, they generally are like, 'OK, I didn't realize.' You know, most people think that whatever is put in the storm drain gets filtered out. Our storm system doesn't go through any filtering, it goes straight into your creeks and lakes."
When Keeling set out looking for a job last year, she says she "didn't even know what stormwater was at all. I was just applying to everything. I thought, 'Here's something I could do. It's a job with the city. City jobs are good, let me apply for it.' And so they called me for the interview. And I didn't even remember putting in an application at all. And so I went back to go look at the job description, and the posting had already been taken down. So I was like, 'Well, I'm not going to get this one. But let's go to the job interview anyway, just go ahead.' And I did."
Keeling jokingly recalled her interview. "I was like, 'Well, I'm gonna be completely honest with you, I don't know anything about stormwater at all,' and I didn't. The term stormwater, I probably don't even think I'd ever even heard of. I was like, 'Given the chance, I'll do everything I can to learn and see if it's for me.' The job had been vacant for a little bit, they just couldn't find the right fit. Whenever I left I was like, 'There's no way I'm gonna get that job, no way.' Because I flat out, told them I didn't know anything about it. ... They ended up giving me the job. I was shocked."
Keeling's manager, Aaron Graulau, said it was a good decision. He said Keeling typically downplays how much she does in her position. In fact, he said early on she became a legend when his team was working under the city, in one of Hot Springs' many tunnels. Graulau said they had to send in one of their robots to view possible damage or blockage from debris, when the robot accidentally turned over. They needed someone to turn it back over, but the tunnel was too small for anyone in his crew.
The robot is "like 80 pounds and it takes a couple of us to be able to do it," Graulau said. "What we're looking for is pieces of bicycles, pieces of chairs ... we have found the worst thing in the world to get in there. Brooms for some reason, because they're so light, they get picked up in the stormwater and they go straight down the storm drains. So we're looking to see if it's clogged. If it's clogged, then we can call our street department. They can get it unclogged. If it's collapsed, that's a whole other issue. And so we're just looking for anything that might impede the flow of water, because once you impede that flow of water, that's where you start getting your flood."
Keeling said, "I knew this someday would happen. I knew something was going to get stuck. I knew it was eventually, so I was prepared."
Graulau said they were looking for anyone who could go down in the storm drain when Keeling volunteered.
"So I got a flashlight and I spider crawled," Keeling said. "My butt was soaking wet. At that time I didn't have my muck boots yet. It went over the top of my chicken rubber boots."
Keeling went to her supply closet, pulling out a pair of garden boots covered in colorful chickens, and laughingly said, "These are my chicken boots."
"So she looked and she said, "How am I going to get down there?' We grabbed her arms and lowered her down," Graulau said.
"It was like down deeper," Keeling said. "Some of them are deep. Yeah. So it was above my head ... like you could see my head sticking out and I've got these short little T-rex arms. I'm like, 'Listen, Y'all are gonna have to get me in and out. Like, just know that's what you're gonna have to do.'
"Once I got down there I didn't mind. You know, there's no snakes, because it was too cold," she said. "Yeah, I don't mind, but my butt was wet. There was water in my shoes."
Graulau added, in a tone resembling a proud parent bragging, "I gotta say something. A legend was born that day. You know, Rachel, she's very well put together ... always dresses smart. I'm sure a lot of people think, you know, she's just an office lady. ... She became a legend. Everybody in public works was like, 'Wow.'"
Keeling said, beyond crawling into storm drains, her job is a little bit of everything. Mostly, she says she is over inspections.
"I just make sure that the paperwork is filled out. That we got them all done," she said. "As far as I can on the construction side, that's my main (job) ... to tally up and make sure that we've got the documentation. So if we get audited ... because we get audited from the state. And so to make sure that we are doing what we're supposed to do, I just go over all of it."
Keeling stressed, however, she does not just do the office work. She is interested in knowing "everything that there is to know. And that's what I set out to do. So I do inspections. I just kind of hand-picked a few so that I can learn. I started off going with them to do several, and kind of learned. And about three or four months ago, I started doing them on my own. That way I can learn how it's done, learn how we do what we do best. So I learned everything that I could about it. I'm not gonna say that I've mastered it. But I grasp the concept pretty well. I took onto it really fast. I was really surprised."
Not everything always goes as planned. Keeling says that sometimes construction has to be put to a halt when the rules are not being followed and warnings are not heeded.
"There's a whole process," she said. "Most contractors here in the city work with us. We are on a first-name basis with most of them. You'll have a few that come from out of town to do work in the city limits, but for the most part, we have a relationship with most of them. Most of the time, if we tell a contractor, 'Hey listen, this needs to be done. We're having issues here. Please take care of it.' They're gonna take care of it.
"Very seldom do we have to go any further than that ... a verbal warning, a conversation and they fix it. If they don't, we do have the capability of putting a stop-work order on a site, which we've done a handful of times. We try not to because it's going to cost the homeowner, it's going to cost the contract. I mean, it's going to cost everybody money. We can do a notice of violation and send it to the homeowner. It's a $50 administration fee for it to let them know, 'Hey, listen, your contractors not doing what they're supposed to do here. And this is why.' So I issue those.
"The stop-work orders, we literally will go on that site. And whoever site it is ... so if it's one of my sites, I'll put it out. I think we've done two or three since I've been here. That is a last-ditch effort. But we do fines. We do have the capability of doing that. We have written some tickets. I think two since I've been here. Neither one of those were on a construction site. Those were individuals. But we do have the capability of doing that as well. We don't like to, we want to be their partner compliance.
"I don't want to be a mud cop, where I'm getting onto them and telling them, 'You need to do this. Do it now because I say so.' It's just not who I am. Our main goal is to keep our lakes looking pretty mean. The community uses them, we get tourism from them, we want to keep them safe and clean. And once you explain that, most everybody enjoys going to the lake, most everybody enjoys swimming in the creek. You know, those are things that people enjoy doing. And so once you explain that to people, they generally like, 'OK, look, I didn't realize.'"
Keeling says her real passion is community outreach and education. "I love being out in the community. Before I had my second child, I was involved in the Oaklawn Rotary in the Women's Chamber of Commerce. Having that second kid kind of puts a stop to some of that. I'd really missed doing community outreach stuff. It's a completely different aspect of community outreach. Mainly, I get to educate the community.
"The best way to educate a community would be to start with your young kids," she said, "because they're going to keep at their parents. If you tell them smoking is bad ... if you tell them you're supposed to wear your seat belt ... they're gonna go and get excited to tell their parents. They go home, and they talk about it. And so I feel like going into schools is going to be our best way to let people know who we are. Because there's so many people that have no idea ... I was one of them. I had no idea. Until people have a problem with stormwater, (they) don't think about it. It rains, it goes away. What's there to think about? Until you start having issues, you know.
"With the kids, you can explain that to them ... rain picks up pollutants as it goes across your grass," She said. "So if you have loose toys, or if you have a broom, if you have yard waste ... all those things can be picked up by stormwater and go into the storm system."
On a personal level, Keeling says she has been very open about being a single mother and hopes her story could possibly be an inspiration to other women.
"I was a single mom. I will say whenever I went public that I was pregnant, I just went head-on. I put a post on Facebook, because that's what everybody does, right? I normally don't put private stuff on Facebook, but I did a post on Facebook and I just put my age. You know, I'm in my early 30s, I'm single and I'm pregnant. It is what it is," she said.
"I lost my job. I was devastated. But, it was the best thing that could have ever happened to me. It was honestly a blessing in disguise. I was heartbroken, like, 'What in the world am I gonna do you know?' But it all works out. And it did for me ... everything.
"If you put in the work, everything works out exactly how it should. And luckily, it worked out. I was involved in the community, which really helped me get this position. But destiny puts you where you need to be in certain points in your life. And even when you feel like this is the worst thing that could have ever happened to me ... I mean, I was in my early 30s, single, and pregnant. I lost my job. I just bought a house. Oh my goodness, like that's the lowest of the low. I had a roof over my head, thank goodness."
Keeling said she was worried about how she was going to make her mortgage. "It took me about eight weeks to get my unemployment. So I didn't have income for eight weeks and had just bought my house. Luckily, I have a fantastic support system and have got a wonderful family and have got amazing friends that helped. I am very blessed."
At first, Keeling said she was not sure how to tell people what was going on in her life. She worried what others might think, but was surprised at the response she got.
"I will tell you, whenever I put on Facebook that I was pregnant, I could not believe the amount of people that messaged me and were like, 'Thank you' or, 'Hey, I have a similar story.' Like, 'You're not alone.' And so it was empowering. At first, I was ashamed. Like, yeah, this is terrible. And you know, I was embarrassed. But being able to put it out there ... nobody was negative about it. Nobody said a negative thing at all. It was all positive. There are so many people out there that have been through similar situations ... issues. But unless we are upfront and honest about our struggles, nobody knows. Right?"
Keeling says that her employers have been wonderful to take into consideration her role as a single mother. "I'm very blessed. I work for a job that if I need to take one of the kids to the doctor, or if I need to leave early for a program, or if one of the kids is sick, I'm never made to feel ashamed for not being here. It's always, 'Your family comes first, we're second.' And to me, I couldn't ask for anything better," she said.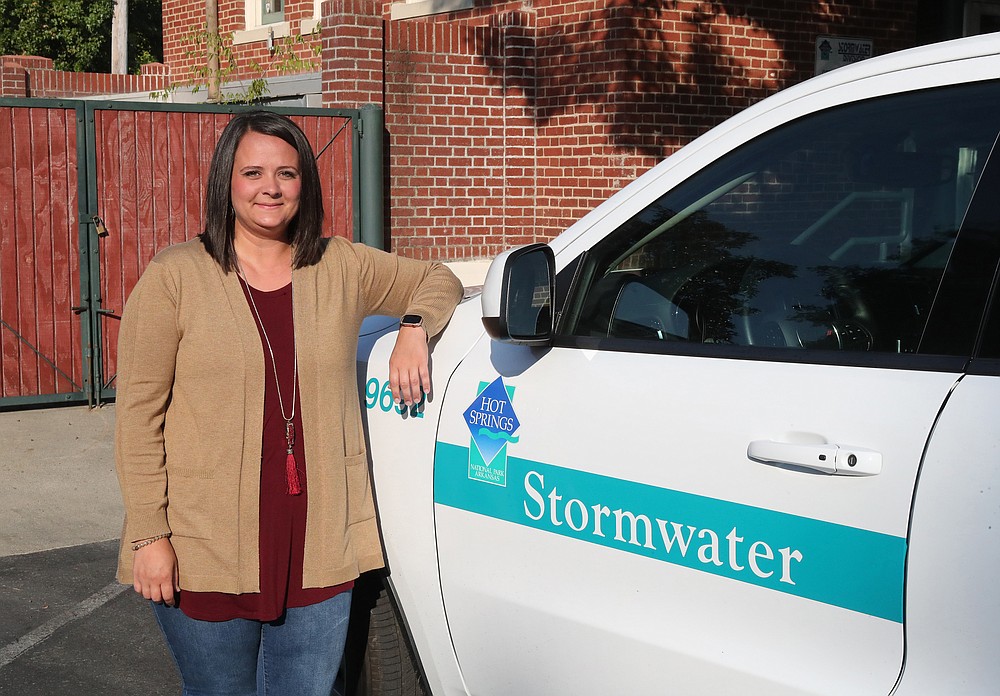 Rachel Keeling, Stormwater Coordinator for the city of Hot Springs. Photo by Richard Rasmsusen of The Sentinel-Record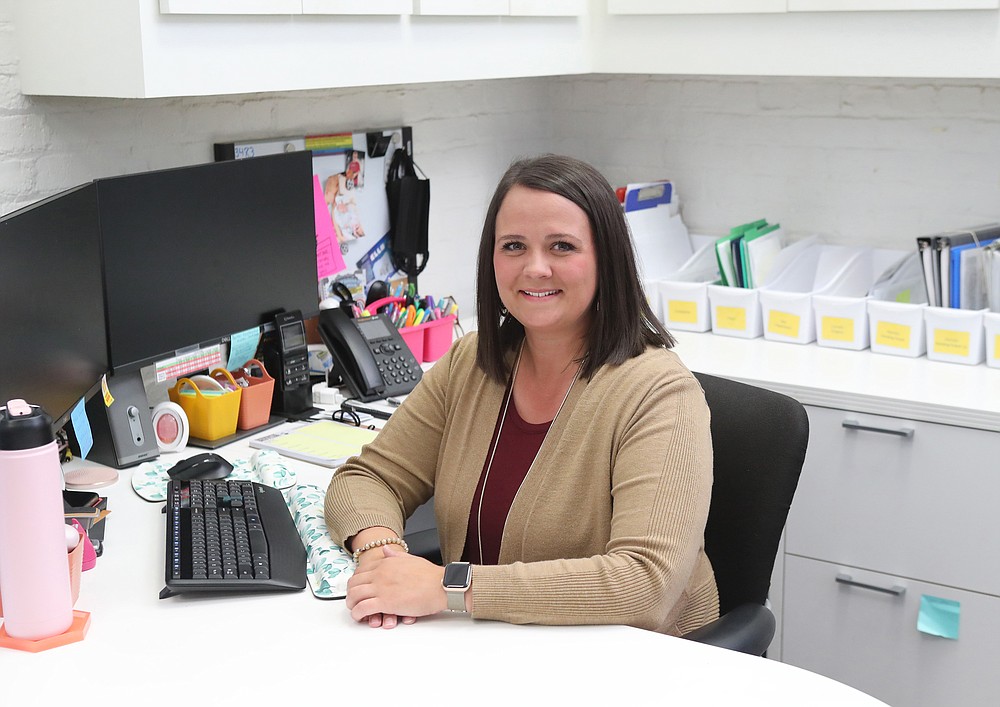 Rachel Keeling, Stormwater Coordinator for the city of Hot Springs. Photo by Richard Rasmsusen of The Sentinel-Record