Some modern-day track and field events can trace their heritage back to the Scottish Highlands, a lineage carried forward today by athletes like Abigail Lee.
The Scottish Highland Games athlete says that much of the competition is similar to modern track and field events.
Video not playing? Click here https://www.youtube.com/embed/ojJfWsBB4Kc
It is "one of the oldest organized sports, and it is where a lot of modern sports like track and field hail from. So, you'll see a lot of similar movements with a couple of differences with the implements that we use between the Highland Games and track and field," Lee said.
Spectators will get a glimpse of old-world athleticism Sept. 25 when the Ouachita Highland Games is hosted at Cedar Glades Park.
Highland Games pulls many track and field athletes to join the games because of the similarity in the sport and an opportunity to continue participating in a communal sport.
"We practice as a team, but it is actually an individual sport," Lee said. "It's always fun to practice with a group and of course at the games, you're competing against a number of individuals, and it's kind of that community setting in (that) regard, but you're not scored as a team, you're scored as an individual thrower against other throwers in your class."
She said the sport has always been a "beautiful mesh of nerds and fitness enthusiasts."
"A lot of Scottish Highland Games athletes are generally very into history, genealogy. ... To me, it is the coolest mix of people that I have ever met, and I feel very comfortable being myself," she said.
Lee trains with elite-level throwers including Stacy Green, a Master's World Champion in a few events, and Dan Murphy, a Scottish Highland Games athlete who has coached Lee the most since she joined the highland games. Murphy is an elite light thrower and has received invites to Nationals on more than one occasion.
"I personally do not have any elite or pro ranking as of yet, but it is certainly a goal of mine in the next couple of years," Lee said.
Lee said it was a mutual friend with the local practice group in Little Rock who introduced her to the sport in early 2020. However, she did not practice consistently until the beginning of 2021.
Green, organizer of the Ouachita Highland Games, said the Scottish Highland Games has been going on for centuries. An athlete can choose, if they have the time and the money, to travel to compete. Up until this year, he said, the only competition in Arkansas was at Lyon College.
"They have the Arkansas Scottish Festival, and so they have a Highland Games up there. I just moved up here from Texas about a year and a half ago, and so I wanted to bring a Highland Games competition to Hot Springs. I think it's a great city. We love it here," he said.
Green said the Ouachita Highland Games boasts nine events.
"So, anyone that comes out that day -- it starts at 9 a.m. -- but it'll run all day long. So, it doesn't matter if they get there at noon or 1 p.m., they'll still get a look, and they'll see every event going on at the same time, just with different classes," he said.
The Ouachita Highland Games will have a festival feel with vendors, and children 5 years old and younger will be admitted free.
On Sept. 24, the games will be set up, vendors will be open and a free clinic will be open to the public to test out various game events.
According to hotsprings.org, 60-70 athletes will be competing in different classes including women's, masters, lightweights, and there will even be some world and national champions competing.
"I would just encourage the public to come check (the games) out. These ladies, I think, are role models. I think it's good that women can see that they can participate in this, even if they've never done it before," Green said.
Lee said the team tries to practice at least once a week.
"For some of us who may have more regular access to implements, this was just kind of as possible basis, maybe on an evening after work or so, but generally, once a week is what we can consistently hit," she said.
Lee said the practice schedule is fairly similar to strongman and several athletes who train for strongman events; they will have regular programming, regular lifting, and accessory programming throughout the week. Then they will have one event day where they will specifically train certain events.
"So that's essentially how Scottish Highland Games athletes generally practice and maintain their overall fitness or improve on their overall fitness as well as we will lift and workout throughout the week and then we'll have our one day where we practice the actual events," she said.
There are few sports where a competitor on game day could potentially be the greatest support that the players have.
"I'm not really sure that is common in any other sport where you are individually scored and in competing against other individual athletes. So, for example, at my first games, there was an elite level woman that was throwing in my class, and she went out of her way to give me tips and cues throughout the day and getting that like from your competing against yourself, really, that's the mindset I tried to maintain," Lee said.
"But at the same time, having that support by all of these women who technically are your competitors is absolutely incredible, and I think that is an experience that people may miss out on in other sports," she said.
"I would encourage anybody who has wanted to be a part of a sport or sporting community but may not have ever felt like they fit in with the athletes and other sports to maybe take a look at Scottish Highland Games. I know for me personally, I have never felt as welcome as an athlete and like I actually fit in instead of sticking out, and that is something I will carry with me for the rest of my life and why I plan on continuing to throw in the Scottish Highland Games for as long as I can," Lee said.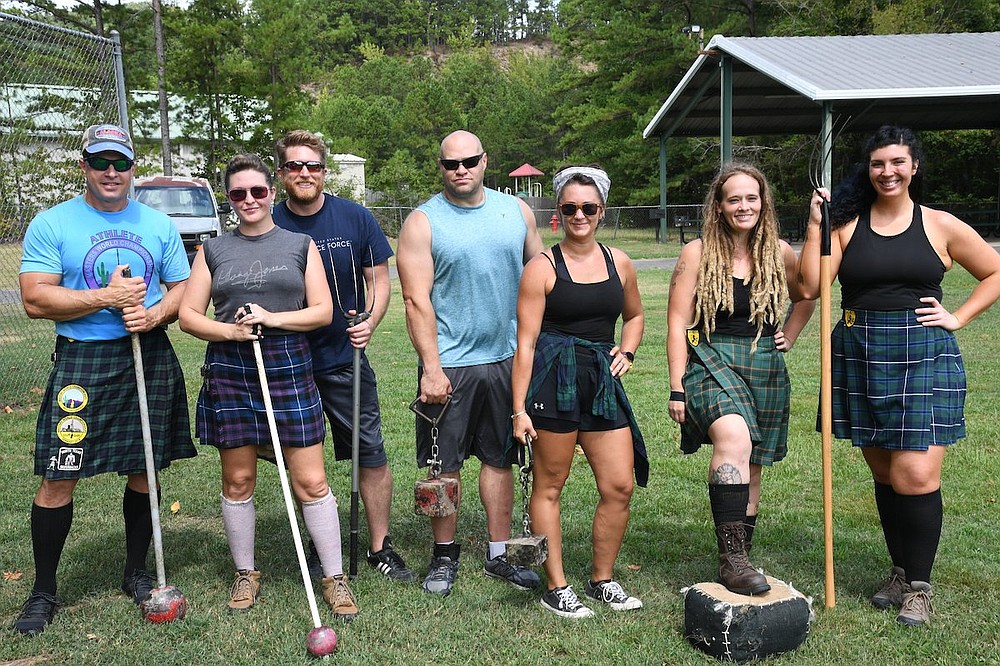 Abigail Lee - far right - stands with other Highlands Games competitors at a practice. - Photo by Tanner Newton of The Sentinel-Record