Although the active number of COVID-19 cases continues to trend downward throughout Garland County, the county's death toll continues to climb, with 19 new deaths reported over the past week for a total of 366.
Garland County Health Officer Dr. Gene Shelby noted Wednesday that of the roughly 100,000 people that live in the county, one out of every 273 has died from COVID-19.
Don't see the podcast above? Click here https://www.hotsr.com/covid19-podcast/
"Our death toll continues to go up -- and go up pretty significantly," he said. "And one of the things that I kind of mentioned at the meeting, there had been a news report last week that the state of Mississippi had the highest death rate in the country among the states."
Shelby reported at Monday night's Hot Springs/Garland County COVID-19 Task Force meeting that one out of 320 people in the state of Mississippi had died from COVID.
"And so I kind of did the calculation for Arkansas and we were, as a state, no better than that," he said. "In Arkansas, our death rate is the equivalent of one out of every 402 Arkansans, have died of COVID. But I'd known, just kind of glancing at the figures over the last year, that our death rate per population was higher than, not necessarily all counties, but most of the big counties."
Shelby further explained that Garland County's 1:273 ratio marks a higher death rate than Mississippi's -- and certainly Arkansas'.
"You know, I think that we kind of get caught in the weeds on some of this with the different numbers, but the hard fact remains that we've got a lot of people that have died in Garland County from this," he said. "And with our low vaccination rate, we don't have any reason to think that that's not going to continue."
Garland County continues to lag 10% behind the state, with 44% of the eligible population vaccinated, compared to the nation's 64%. The good news, however, Shelby noted, is that the number of active cases continues to trend downward.
"Our active cases have come down, you know, significantly over the past four to five weeks," he said. "And our average number of new cases per day has come down, though it's still at 32 new cases per day. But that's down from almost 100 five or six weeks ago. So those are definitely good things."
Shelby said one thing that still concerns him is that even though the county's number of active cases has come down from around 1,000 to the lower 300s is that it is still twice the number of active cases Garland County saw this week a year ago.
"We're starting at a higher level and so that's concerning, and as far as the decline we're experiencing here, you know, we had really big drops, I guess, through mid-August to mid-September," he said.
"And so it does appear at this point that we're having a leveling off of our declines and that we're maybe more on a plateau, rather than a continuance of the downward trend in the numbers. So that's an issue. ... But with the numbers in the fall last year, you know, we were worried that we were going to have a big uptick after school started and Labor Day, and we really didn't. Our numbers were pretty flat during September last year and even in the first half of October. And we really didn't start seeing our upwards spike until really towards the end of October. And then once we started up that spike, it really went up through the rest of the winter, kind of peaking out in January," Shelby said.
"And, you know, you kind of attribute that to a variety of factors. I think one of the obvious things is that it gets colder and people stay indoors more and the virus is much more easily spread indoors than outdoors, so I think that's a factor. And then you get into November, you start having big holidays of Thanksgiving, Christmas and New Year's, and we definitely saw the big surge throughout December and into January, and we really didn't peak out until mid-January."
Much discussion was held regarding the question of what point it would be safe for schools to stop their mask mandates during Monday night's meeting. Shelby recommended to each of the school district superintendents that they not "get ahead of the game," but continue with the mandates at least through the latter part of October. Shelby noted that by that time, there would be a lot more information available as to where the numbers were heading, as well as vaccination rates.
According to the news release issued by the task force Tuesday, Garland County's seven public school districts reported 33 active student and staff cases, marking a decline of 68 from the 101 total active cases reported at the Sept. 13 meeting.
Cutter Morning Star reported five student cases and one staff case, while Fountain Lake reported three active student cases and no staff cases, Hot Springs one active student case (down from 36 a week ago) and no active staff cases, Jessieville five active student cases and three active staff, Lake Hamilton seven active student cases and one active staff case, Lakeside School District six active cases and no staff cases, and Mountain Pine one active student cases and no staff cases.
The two local hospitals, CHI St. Vincent and National Park Medical Center, reported a total of 32 COVID-19 patients, down from 47 a week ago, with 14 in intensive care and 12 on a ventilator.
"You know, unfortunately, our vaccination numbers are going down," Shelby said. "So, again, I want to tell people that the vaccines are available, they're safe, they're effective, and the only way that we're really going to be able to nip this in the bud is to get more people vaccinated."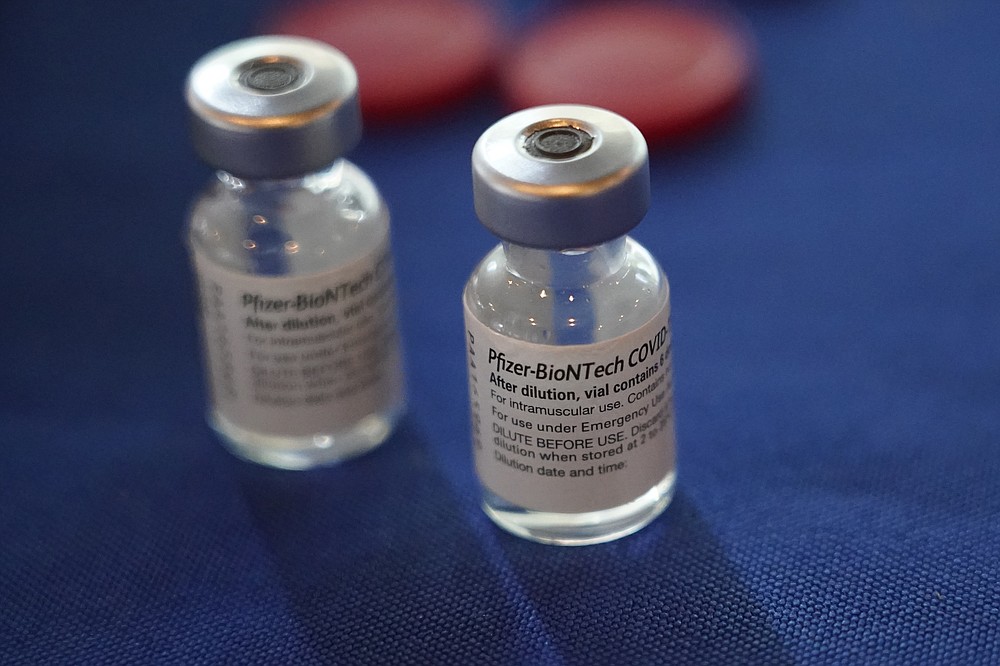 Empty bottles of the Pfizer COVID-19 vaccine await disposal by a nurse with the Jackson-Hinds Comprehensive Health Center in Jackson, Miss., across the street from Jackson State University, on Tuesday. - AP Photo/Rogelio V. Solis